When trails and mountains are covered with snow, hiking becomes more challenging and requires additional gear and skills. Trudging through soft knee-deep snow is very exhausting, but you can make it less exhausting by wearing snowshoes. Snowshoes allow you to walk on snowy terrain without sinking in too deep.
A snowshoe consists of a rigid frame with a flexible deck inside and crampons which are distributed along the frame and under the bindings. Therefore, snowshoes also provide traction besides flotation. Modular tails can be attached to some snowshoes in case that increased flotation is required – like for example when you are carrying a heavy backpack or hiking on a terrain covered with powder snow. Snowshoes can be used with any hiking boots but work best with boots that have relatively stiff soles (see backpacking boots). When you are hiking with snowshoes, you should also use trekking poles for better balance and gaiters to keep the snow out of the boots.
Those who are new to winter hiking are often confused about the difference between snowshoes and crampons. The big and important difference is that snowshoes are designed for terrain covered with soft and deep snow where flotation is required while crampons are designed for icy terrain where traction is required.  Although snowshoes also provide some traction, they are not the best option for icy surfaces as they provide inferior maneuverability and traction in comparison to crampons. Furthermore, they are also heavier and bulkier.
Updated Content
We regularly update our reviews and selections to always recommend you the best products on the market.
Expert Selections
We only list top-tier products. Read how our selections of best hiking products differ from others here.
Links
We use affiliate links and may receive a small commission on purchases at no extra cost to you.
1. Our Picks of Snowshoes for Hiking
2. Comparison of Hiking Snowshoes
Feature/Product
MSR Lightning Ascent
Crescent Moon Gold 10
Tubbs Panoramic
TSL Symbioz Elite
Atlas Helium Trail
Available Sizes
22, 25, 30
32

25, 30, 36
20.5, 23.5, 27
23, 26, 30
Best Use
Mountainous Terrain
Deep snow
Flat/Rolling TerrainMountainous Terrain
Groomed trails
Groomed trails
Weight (pair)
3 lbs. 13 oz. (22″); 3 lbs. 15 oz. (25″); 4 lbs. 9 oz. (30″)
4.95 lbs.
4 lbs 8 oz (30)
2.05 lbs (20.5); 2.15 lbs (23.5);
2.40 lbs (27);

3 lbs. 5 oz. (26)
Weight - Metric (pair)
1.73 kg (22); 1.8 kg (25); 2.08 kg (30)
2.2 kg
2.04 kg
930 g (20.5); 975 g (23.5);
1089 g (27);
1505 g (26)
Width
20 cm ( 8 in.)
25.4 cm ( 10 in.)
20 cm ( 8 in.)
7.5 in. - 19 cm (20.5); 8 in. - 20 cm (23.5);
8.5 in. - 21.6 cm (27);

8 in. - 20 cm (23); 8.5 in. - 21.6 cm (26);
9 in. - 22.9 cm (30);

Length
56 cm (22 in.); 64 cm (25 in.); 76 cm (30 in.)
81.3 cm (32 in.)
64 cm (25 in), 76 cm (30 in.), 91.4 cm (36 in.)
20.5 in. (52 cm), 23.5 in. (59.7 cm), 27 in. (68.6 cm)
58.5 cm (23 in.), 66 cm (26 in.), 76 cm (30 in.)
Binding Type
PosiLock (Rotating)
SPL (Rotating)
DynamicFit (Rotating)
Telescopic bindings (Rotating)
Wrapp (Rotating)
Heel Lift
Yes
Yes
Yes
Yes
Yes
Optimal Load
Up to 176 lbs. (22); 119 - 220 lbs. (25); 149 - 279 lbs. (30)
Up to 225 lbs.
120-200 lbs (25);
170-250 lbs (30);
220-300 lbs (36)

65-180 lbs (20.5");
110-260 lbs (23.5");
150-300 lbs (27")

80 - 160 lbs (23");
150 - 220 lbs (26'');
200 - 270 lbs (30'')

Optimal Load (Metric)
Up to 80 kg (22); 54 - 100 kg (25); 68 - 127 kg (30)
Up to 102 kg.
54-91 kg (25);
77-113 kg (30);
100-136 kg (36)

30-82 kg (20.5");
50-104 kg (23.5");
68- 136 (27")

36 - 72 kg (23");
58 - 100 kg (26'');
91 - 122 kg (30'')
Modular Tails
Yes
/
/
/
/
Optimal Load With Tails
Up to 251 lbs. (22); 119 - 279 lbs. (25); 180 - 299 lbs. (30)
/
/
/
/
Optimal Load With Tails (Metric)
Up to 114 kg (22); 54 - 127 kg (25); 82 - 136 kg (30)
/
/
/
/
Unisex
No
No
No
Yes
Yes
3. The Selection
1. MSR Lightning Ascent Snowshoes
Suitable for:
Mountaineering
Hiking
Trekking
Backpacking
Ski mountaineering
The MSR Lightning Ascent snowshoes are perfect for hikers and mountaineers who often hike on steep terrain. They feature a lightweight aluminum frame which provides superb durability and traction. The whole frame is basically a crampon – there are teeth on the edges and three rows of split teeth across the sole.  This design provides 360° traction and allows you to safely hike on slippery slopes. The decking inside the frame is lightweight but durable. The Lightning Ascent use PosiLock freeze-resistant rotating bindings which securely attach your hiking boots to them. The bindings consist of three straps that go over the foot and one strap that goes around the heel. Two additional crampon teeth are under the bindings and cut into the snow when you lift your heel. The Lightning Ascent are also equipped with heel lifts (Ergo Televators) which can be easily lifted with a trekking pole. They can be worn in different conditions because they are compatible with 13 centimeters long MSR tails (sold separately). They are best for those who want a high-quality solution for hiking in snowy conditions – they can handle deep snow as well as icy terrain.
Women's Version: Available - MSR Women's Lightning Ascent
Note: Women's version might slightly differ from the men's version.
Pros:
Traction
Weight
Flotation tails
Traction rails
Cons:
Where to buy?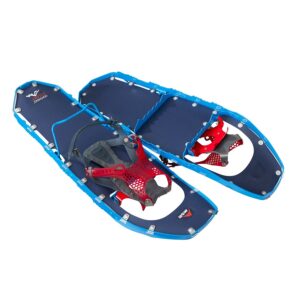 MSR Lightning Ascent Snowshoes
Buy from REI
Also available at:
Video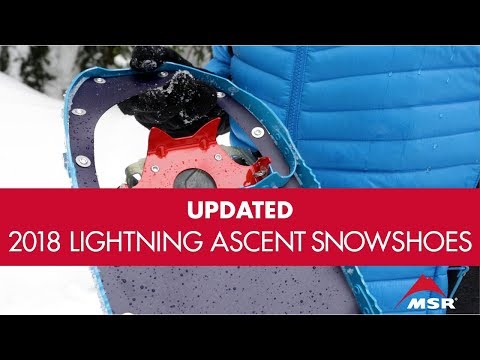 2. Crescent Moon Gold 10 Snowshoes
Suitable for:
Hiking
Trekking
Backpacking
The Crescent Moon Gold 10 snowshoes come only in 32-inch length and are thus best for adventures in deep and soft snow. They provide superb floatation and are very easy to use. The snowshoes feature a lightweight aluminum U-shaped frame and come with a pair of heel lifts. For traction they have traversing claws and teeth at the ball and heel. The snowshoes also feature a climbing toe claw which helps with the traction while you are ascending steep hills. The decking is made of lightweight composite materials which provides good durability at low temperatures. The SPL rotating bindings enable you to walk comfortably no matter the terrain. The main advantage of these snowshoes is their superb flotation, and the downsides are that they are heavier and bulkier than other models in this selection.
Women's Version: Available - Crescent Moon Women's Gold 13
Note: Women's version might slightly differ from the men's version.
Pros:
Flotation
Comfortable
Easy to use
Cons:
Where to buy?
Also available at:
Video
3. Tubbs Panoramic Snowshoes
Suitable for:
Hiking
Trekking
Backpacking
The Tubbs Panoramic snowshoes are very versatile and durable. They are perfect for all types of terrain and snow conditions. The snowshoes feature U-shaped aluminum frames which are equipped with traction rails on the edges. Traction is additionally increased by the Cobra toe crampon and Tubbs heel crampon. The Tubbs Panoramic snowshoe uses rotating DynamicFit bindings with BOA closure system for precise fit and optimized control (your boot is tightened to the snowshoe simply by rotating a button on the binding). Therefore, these snowshoes are easy to put on and off. They come with heel lifts for comfortable ascents. The Tubbs Panoramic snowshoes are due to its versatility perfect for those who are regularly snowshoeing on different types of terrain.
Women's Version: Available - Tubbs Women's Panoramic
Note: Women's version might slightly differ from the men's version.
Pros:
Versatility
Easy to put on/off
Easy to adjust
Cons:
Where to buy?
Also available at:
Video
4. TSL Outdoors Symbioz Elite Snowshoes
Suitable for:
Hiking
Trekking
Backpacking
The TSL Symbioz Elite snowshoes are very compact and provide great stride ergonomics. In comparison to the snowshoes listed above, they have smaller coverage and thus they don't provide as good flotation. However, they provide excellent maneuverability and are therefore perfect for hiking on groomed paths. The TSL Symbioz Elite snowshoes are equipped with excellent bindings which provide high level of foot flexibility and enable you to easily put the snowshoes on and off. For good traction, the snowshoes feature vertical blades and stainless-steel bidirectional crampons under the foot. The snowshoes have flexible frames which follow the shape of the terrain. This additionally increases the traction. The TSL Symbioz Elite snowshoes are a great option for those who mostly hike on groomed trails.
Pros:
Maneuverability
Traction
Stride ergonomics
Good bindings
Cons:
Where to buy?
Also available at:
Video
5. Atlas Helium Trail Snowshoes
Suitable for:
Hiking
Trekking
Backpacking
The Atlas Helium Trail snowshoes are less expensive than other snowshoes in this selection. Nevertheless, they offer a lot for the price. The Helium Trail snowshoes are equipped with Helium decks which are lightweight and sturdy. They come with Wrapp bindings which efficiently distribute pressure across the foot for better stride ergonomics. For traction the snowshoes have traction rails which cover 2/3 of the snowshoe length and crampons under the bindings. The crampons on these snowshoes are less aggressive than the crampons of snowshoes listed above. Therefore, the snowshoes provide a bit less traction on difficult terrain. The Atlas Helium Trail snowshoes are due to their low price a great option for beginners.
Pros:
Easy to use
Price
Comfortable
Cons:
Where to buy?
Also available at:
Video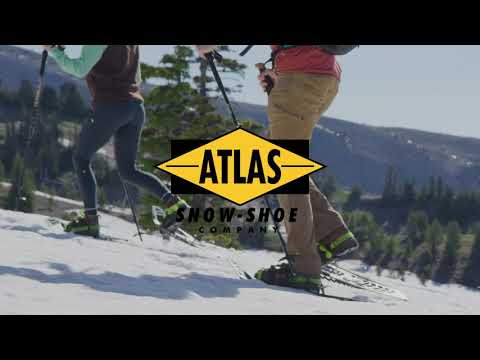 4. Snowshoes Buying Advice – What is important?
Weight:
In this review we only listed snowshoes which provide superb flotation-to-weight ratio. All products in this review weigh less than 6 pounds per pair. Lightweight equipment allows you to hike faster and easier.
Frame Size:
Snowshoes have either oval or tapered frames. Your shoe size is NOT what determines your snowshoe size.  Snowshoe size is based on your weight (the heavier, the larger the frame size), type of snow cover (the softer the snow, the larger the frame size) and terrain (smaller size results in better maneuverability). A large frame will of course impede your maneuverability and in general you should aim for the smallest size possible to fit your needs. A (very) general rule of thumb is that for every kilogram of body weight, a snowshoe should cover a surface of 2 square inches.  However, this rule doesn't take the type of snow cover into consideration.
Most snowshoes are available in different sizes to cater to hikers with different needs and weight.
Tail:
The tail is the back part of the snowshoe and is very important for flotation. Some snowshoes have integrated tails (they are part of the frame) while others have modular tails. A modular tail can be attached to increase the flotation and detached when higher maneuverability is required.
Decking:
The decking is the material that fills out the frame and is made either of synthetic materials or composite materials. The deck should provide good puncture- and impact-resistance.
Bindings:
The bindings are used to secure the snowshoes to your boots and are usually made of straps that go over the foot and around the heel. There are two types of bindings – rotating bindings and fixed bindings.
Rotating bindings pivot at the point where they are attached to the snowshoe, so that the end of the snowshoe drops down when you lift your foot. This allows you to maintain natural movement and easily walk uphill. The only downside of rotating binding is that it makes it hard to cross obstacles (for example fallen trees) because the tail drops down whenever you lift your foot.
Fixed bindings don't pivot and thus the snowshoe is always aligned with your foot. These bindings allow you to easily cross obstacles but walking uphill in them is difficult.
Crampons:
Snowshoes are equipped with crampons to provide traction. The crampons are placed under the bindings, in the heel area and on the sides. Crampons under the bindings cut into the snow when you lift your heel (they turn with your foot) and thus enable you to walk forward without slipping.  Crampons in the heel area slow you down during descents and crampons on the sides provide you with the traction when traversing.
Heel Lifts:
Heel lifts are metal bars that can be lifted under the heel when you are going uphill. They place your heel higher and thus reduce the strain on your calves. To learn more about heel lifts, read this article from crescentmoonsnowshoes.com.
Material:
Snowshoe frames are made either of metal (aluminum etc.) or composite materials (plastic, carbon fiber). The decking can be made of composite materials or synthetic material such as impregnated nylon, rubber or synthetic leather. The crampons are usually made of stainless steel or aluminum while the bindings are in most cases made of durable nylon.
5. Questions and Answers
What size of snowshoes to get?
The size of snowshoes should not be selected on the basis of  your footwear size, but according to your weight (the heavier the user, the larger the snowshoes), snow cover and terrain. To get snowshoes in the right size for your needs, check the manufacturer's website where you will find information about which size fits your weight.
Do you need poles with snowshoes?
Trekking poles are very useful for snowshoeing because they help you with traction and balance. Note that trekking poles for snowshoeing should have wide baskets so they don't sink too deep in the snow.
What kind of shoes do you wear with snowshoes?
You can wear any kind of shoes with snowshoes, but we do recommend wearing water-resistant and relatively stiff hiking/backpacking boots for best fit and comfort.
How much snow do you need for snowshoeing?
Snowshoes are intended for deep and soft snow. In any other conditions it doesn't make sense to wear snowshoes because they are heavy and bulky. Note that on frozen hard terrain you will be better off with crampons.