Hi, we are the family behind Nail the Trail!
We hike, climb mountains, test hiking gear and follow the latest innovations in hiking equipment. The team behind the website is nothing more and nothing less than our little family. Since 2014 we have written about our hiking adventures in various countries, tested and reviewed outdoor gear and apparel, and covered various topics in our hiking tips articles. Our family consists of Blaz, Laura and little MK. Below you can read more about each of us. If you want to learn more about the website, check out the Introduction to the Website.
Jump to:
The Team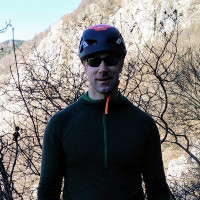 Blaz
I started hiking in mid 2000s. I did my first hikes and mountain climbs in the Alps which remain my favorite destination. In the last 10 years I also hiked in England, Iceland, Norway and other countries known for spectacular nature. Although I love scrambling, I've been for the last year mostly enjoying easy trails while carrying our daughter in the child carrier pack.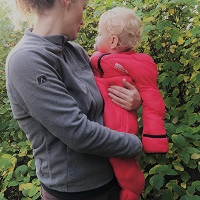 MK
I was born in fall 2019 and ever since I could sit up straight, my parents (i.e. my dad) has been carrying me in my Poco for our hiking adventures. I like to fall asleep in the child carrier, and then make a big fuss when I wake up so my parents have to make stops on the weirdest locations.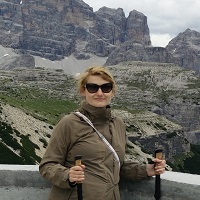 Laura
I loved to climb trees when I was a child – as an adult I use these skills for climbing and scrambling up mountain sides! Ever since I became a mum I try to avoid the more risky paths, but the urge to go up or down some steep mountain side is still there. I always wear a Merino base layer, sunscreen and my hair tousled.
Newsletter and Social Media?
Sign up for our newsletter and be up to date with our adventures, gear tests and product recommendations. The newsletter includes only hiking related articles and is sent approximately once per month. You are also welcome to follow us on social media!
Advertising and Giveaways
We don't offer advertising space as such at the moment, but we do accept products of a certain quality for testing.  If you want to get your products reviewed, get in touch here. Please note that sending us a product for free doesn't automatically entail a positive review – we highlight the best features as well as any possible shortcomings. We do NOT accept money in return for reviewing a product positively. To see examples of our first-hand reviews, check out the gear tests section.
Disclaimer
To make sure we can dedicate ourselves fully to Nail the Trail, we are affiliates of the sites mentioned below. This means that if you buy a product from one or more of these websites, we receive a small percentage of the amount you purchase for – at no extra cost for you.
nailthetrail.com is a participant in the Amazon Services LLC Associates Program, an affiliate advertising program designed to provide a means for sites to earn advertising fees by advertising and linking to Amazon.com.
nailthetrail.com is an affiliate partner on AvantLink, which represents top-notch outdoor stores and brands like REI, Backcountry and Outdoor Research.
nailthetrail.com is an affiliate partner on CJ.com, which among other top brands represents Arc'teryx and Mountain Hardwear.
Privacy Policy and Terms of Use
Check out our Privacy Policy and Terms of Use.

Contact
If you have any questions (trails, hiking gear or anything else), recommendations or constructive criticism, feel free to drop us a line via our contact form, below which you can also read the answers to the most frequently asked questions (FAQ). We will be happy to hear from you.