A hat is one of the most important items of winter hiking clothing because it significantly reduces the body heat loss. Once US Army studies claimed that 40 to 45 % of body heat is lost from the head – and while more recent studies lower this to only 10%, it is still a significant percentage. Therefore, you should absolutely keep your head warm when hiking in cold weather.
However, not every hat is suitable for hiking, mountaineering and other demanding outdoor activities. Some hikers still use cotton hats which quickly become soaked with sweat and dry very slowly. Such hats are not the best option for aerobic activities because a wet garment conducts heat much faster than a dry garment and therefore your head quickly becomes cold if you wear a wet hat – especially during breaks. To learn more about why is cotton not a great material for sport and hiking apparel, read our article Why is cotton bad for hiking.
In this review we selected the best hiking hats for winter to make your buying decision a little easier. We only listed hats which are breathable, moisture-wicking and quick drying. Furthermore, all hats in this review provide good warmth.
Updated Content
We regularly update our reviews and selections to always recommend you the best products on the market.
Expert Selections
We only list top-tier products. Read how our selections of best hiking products differ from others here.
Links
We use affiliate links and may receive a small commission on purchases at no extra cost to you.
1. Our Picks of Hiking Hats for Winter
2. Comparison of Hiking Hats for Winter
3. The Selection
1. SmartWool Cuffed Beanie
Suitable for:
Hiking
Trekking
Mountaineering
Backpacking
Running
Everyday use
The SmartWool Cuffed Beanie is a great hat for winter adventures in cold weather. The SmartWool Beanie is made of 100% Merino wool fabric and therefore it is very comfortable to wear. Furthermore, it is also odor-resistant, moisture-wicking and very breathable. As the fabric is quite thick (with a density of 250 g/m2), the hat provides good warmth. It is equipped with a roll cuff earband which not only allows you to adjust the perfect fit but also keeps your ears remarkably warm.  The seams are well-made and don't cause any rubbing or chafing.  The SmartWool Cuffed Beanie is a great option for basically every outdoor enthusiast. It comes in many colors – from grey to hot pink – and in a handful of prints as well.
Pros:
Material
Adjustable
Comfort
Cons:
Where to buy?
Also available at:
2. Icebreaker Chase Beanie
Suitable for:
Hiking
Trekking
Mountaineering
Backpacking
Running
Everyday use
The Icebreaker Chase Beanie hat is thinner than the SmartWool hat mentioned above and thus best for highly aerobic activities or warmer weather. The hat combines Merino wool fibers and Lycra fibers. Due to Merino wool fibers the hat provides good warmth, odor resistance and wicks moisture away from the skin while Lycra fibers provide stretch for an even better fit. The relatively thin fabric makes the Icebreaker Chase Beanie perfect for cold days in autumn and spring as well as for moderate winter conditions – when the temperatures are above 0 ⁰C.  The hat is also equipped with a double layer cuff which keeps your ears warm. All in all, the Icebreaker Chase Beanie is a great hat for hikers, trekkers, mountaineers and even runners. It comes in 3 different colors – black, blue and gray.
Pros:
Cons:
Warmth
Comes only in one size
Where to buy?
Also available at:
3. Arcteryx Rho Lightweight Hat
Suitable for:
Hiking
Trekking
Mountaineering
Backpacking
Everyday use
The revised  Arcteryx Rho Lightweight toque is, like the previous hiking hats, made out of Merino wool but has a bit of spandex (5%) mixed in for added elasticity and recovery. If you are wondering what "toque" means, it's a Canadian expression for a a close-fitting knitted hat – just like a beanie. The Arcteryx hat is made with a double-layer for the headband for extra warmth around your forehead, ears and neck. In terms of style, it comes in black, grey and yellow – each with the brand's characteristic Bird logo embroidered in white on the side. The Arcteryx Rho Lightweight hat comes in two sizes – S/M (for head circumference 55 – 57 cm/21.75"- 22.5") and L/XL (for head circumference 58 – 60 cm/22.75" – 23.5"). 
Where to buy?
Also available at:
4. Patagonia Better Sweater Beanie
Suitable for:
Hiking
Trekking
Mountaineering
Backpacking
Running
Everyday use
While the Patagonia Better Sweater Beanie might look like a regular knitted hat, both the soft fleece interior and the sweater-knit face fabric are made out of 100% recycled polyester. Furthermore, the yarn has been dyed through a low-impact process, which makes the fabric bluesign-approved, and the hat itself sewn and completed in a Fair Trade Certified manner. This makes the Patagonia Better Sweater Beanie a great choice for outdoor people wanting a sustainably produced synthetic hiking hat. It comes in a range of muted colors and two sizes – S/M for head circumferences between 55 and 58 cm (21¾''-22¾'') and L/XL for head circumferences between 58 and 61 cm (22¾''-24'').
Pros:
Sustainable material
Soft fleece interior
Cons:
Where to buy?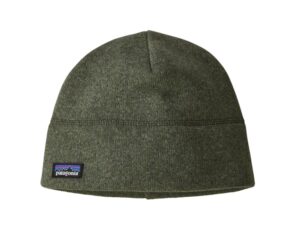 Patagonia Better Sweater Beanie
Buy from Patagonia
Also available at:
5. Under Armour Storm Beanie
Suitable for:
Hiking
Trekking
Mountaineering
Backpacking
Running
Everyday use
The Under Armour Storm Beanie is a very stylish hat and therefore perfect for those who don't want to compromise style for functionality. It uses the ColdGear Infrared technology and thus has a great warmth-to-weight ratio. The fabric (polyester and elastane) has a thermo-conductive coating which absorbs and retains the body heat. Furthermore, the fabric is also treated with DWR (durable water repellant) to repel rain instead of absorbing it. The Under Armour hat is very breathable and efficiently wicks the moisture to the outside where it can evaporate. However, this hat is not odor-resistant as many of the other hats in this selection. Nevertheless, the Under Armour Storm Beanie is a great hat for winter adventures and comes in a wide variety of colors.
Where to buy?
Also available at:
4. Hiking Hat Buying Advice – What is important?
Material
A hiking hat should be made of material that is quick-drying, moisture-wicking and breathable. Furthermore, the material should have good weight to warmth ratio. Modern hiking hats are made either of synthetic materials, such as polyester fleece, or natural materials like Merino wool. Both materials have advantages and disadvantages.
Synthetic Hats
Hats made of polyester dry very fast and provide good warmth, especially if they are made of fleece (brushed polyester). Hats made of synthetic materials are also inexpensive and durable. The downsides of synthetic hats are that they are not as breathable as woolen hats and that they must be washed regularly because they quickly become smelly. Nevertheless, many synthetic hats are treated with antimicrobial agents which eliminate this problem.
Merino Wool Hats
Merino wool is becoming increasingly popular for hiking apparel because it is soft to the touch, moisture-wicking and odor-resistant. Furthermore, due to the unique structure of fibers, Merino wool provides warmth even when it's wet which does not apply to synthetic materials. However, Merino wool also has downsides; it is more expensive than synthetic materials and dries slightly slower.
For more information about materials for hiking hats check out the hats section in our Hiking Clothing Guide.
Fit and Size:
A hat should fit snugly around your head but not too tight. Many hiking hats are only available in one size. However, some top-tier hiking hats, like Arcteryx Rho and Patagonia Sweater Fleece Beanie, are available in two sizes. If you have a very small or a very large head, go for a hat that's available in more than one size. There is a better chance you will get something that fits you great. Winter hats are usually made of stretchy fabrics and thus getting a great fitting hat is typically not a big problem.
Warmth
Warmer is not always better. When you're buying a hiking hat you should consider in what conditions you will be hiking. For example, if you need a hat for moderate conditions a thin Merino wool beanie hat will be great. However, if you need a hat for multiday trips in subzero temperatures you will need a thicker woolen or fleece hat.
Antimicrobial
On multi-day hiking trips, a hat is often worn for several days without being washed and therefore it is a great benefit if it is odor resistant. Some materials are naturally odor-resistant (for example Merino wool), while others can be treated with antimicrobial agent such as Polygiene to become odor-resistant (polyester, nylon etc.). Odor-resistant materials eliminate odor-causing bacteria and are thus also more hygienic.
Durability
Because a hat is worn as an outer layer, it's exposed to the elements and abrasion when you're putting it on and off. Therefore, a hiking hat should have sturdy stitches and durable fabric. Hats made of synthetic materials provide better durability than hats made of Merino wool. However, hats made of wool don't have to washed as often as synthetic hats because they are naturally antimicrobial. Read more about the durability of Merino wool in our article How durable are Merino garments?
5. Questions and Answers
Are fleece hats warmer than Merino wool hats?
Yes, fleece is more thermally efficient than Merino wool, meaning that a 2-ounce fleece hat will be warmer than a 2-ounce Merino wool hat. However, Merino wool doesn't lose warmth as fast as polyester fleece if it gets wet.
Are acrylic hats warm?
Acrylic is considered as an inexpensive replacement material for natural wool and polyester. Acrylic can provide good warmth, but because it is very water-absorbent it quickly loses thermal efficiency if it gets wet (perspiration, snow, rain etc.).
What are beanie hats?
Beanie hats are head-hugging brimless hats with or without visor. In some countries a beanie is considered a knitted cap.