At the end of summer 2021, I received the Patagonia Capilene Midweight Zip-Neck and since then I've been regularly wearing it for hiking and running. The Patagonia Capilene Midweight Zip-Neck is a warm base layer. It is made of a brushed polyester fabric to provide good warmth to weight ratio. I asked to test it because I wanted a versatile and durable base layer for both hiking and running. The base layer also impressed me in terms of sustainability. It is made with 100% recycled content and is bluesign approved and fair trade certified.  In the last two months I wore the Capilene Zip-Neck numerous times for hiking and even more frequently for running. Below is what I learned about it.
The Patagonia Capilene Midweight Zip-Neck is suitable for:
Hiking
Running
Mountaineering
Backpacking
Material
When I unwrapped the Patagonia Capilene Midweight Zip-Neck I was positively surprised by the fabric. The fabric is very lightweight and thin, but also very warm due to its structure. It has a soft, napped texture with a diamond-grid pattern which efficiently traps warm air to keep you at a pleasant temperature in cold weather. The base layer is made of 100% recycled polyester and has miDori bioSoft finish. The miDori finish makes the fabric smoother and softer without the use of chemicals. The finish is made of plant-seed based ingredients and bio-waste streams, which means that it is not harmful for neither you nor the environment. The fabric of the Patagonia Capilene Zip-Neck does indeed feel very soft to the touch. When I put the base layer on for the first time, I was surprised how comfortable it is. There was no itch, chafing or other discomfort.
The fabric is also treated with HeiQ Fresh odor control, which is like the miDori bioSoft finish, produced sustainably. Most other odor control treatments have silver-based ingredients but the HeiQ Fresh utilizes sustainable bio- and mineral-based ingredients instead. So far, the HeiQ Fresh odor control worked very well, and the base layer never got smelly although I often wore it for several activities before washing it. It's a bit too soon to say how durable the odor control is, but so far it hasn't deteriorated with washings. All in all, I'm very satisfied with the fabric.
The other components such as the zipper, locker loop, thumb loops etc. are also high-quality and very durable. So, in terms of materials the Capilene Zip-Neck indeed stands out among other synthetic base layers I have tried.
Features
The Patagonia Capilene Midweight Zip-Neck is equipped with several neat features. It has thumb loops which are stitched to the bottom of the sleeves and are very useful because they prevent the sleeves from riding up during more technical activities such as scrambling. I much prefer thumb loops over thumb holes which are cut into the sleeves of the garment. Thumb holes have the same purpose as Patagonia's thumb loops, but they add bulk to the garment and often start tearing with regular use. The base layer is also equipped with raglan sleeves, flatlock seams, a minimalistic locker loop for drying, high collar and a front zipper. For extra freedom of movement, it features augmented tailoring in the form of underarm gussets which stretch all way down to the bottom hem. I'm very happy with the collar and the front zipper. The collar fits snugly around the neck and provides very good warmth and protection against the wind because it's made of 2-layer fabric. The zipper is very useful in changing weather conditions. If it gets too warm, you simply unzip it a bit to get some extra air in. It's backed by fabric on the inside so that it doesn't chafe you.
Functionality
I found the Patagonia base layer very warm and thus best for cool and cold conditions. It has been perfect for hiking now in the fall and I'm sure it will perform equally good in the winter. For hiking, I've mostly been wearing it under my CimAlp Primaloft jacket, and this combination worked very well for temperatures down to 5° C (41° F). I've been also wearing it for running under my Salomon S/Lab windbreaker. In the fall, the base layer has been warm enough on its own and I didn't need any extra insulation layers. Nevertheless, in the winter I'll probably have to layer up.
I was very happy with the base layer in terms of drying time, breathability and moisture-wicking. The base layer efficiently pulls the moisture from the body and dries very fast. I have tested quite some base layers by now (see the gear tests section) and only a few dry as fast as the Patagonia Capilene. Because the fabric is very porous, the base layer also provides excellent breathability.
Fit and Sizing
The Patagonia Capilene Midweight Zip-Neck is available in six different sizes: XS, S, M, L, XL and XXL. I decided to go for size M which was the right decision because it fits me perfectly. My chest diameter is 98 cm (38.5 in.) and I'm 180 cm tall (5 ft. 11 in.). The base layer is a made of very stretchy material and thus provides good freedom of movement. It's supposed to fit snugly (slim fit) as most base layers that are designed for cold temperatures. All in all, I found the Patagonia base layer very comfortable to wear.
Washing and Drying
The base layer is machine washable at 40 C but doesn't have to be washed as frequently as other synthetic base layers because it's treated with the HeiQ antimicrobial agent. A good tip is to wash the Patagonia Capilene Midweight in a washing bag or a pillowcase, because zippers, hooks etc. of other garments can catch onto the delicate material, pull threads loose and in worst case, cause small holes in the fabric. Like most activewear, the shirt shouldn't be tumble-dried, but drying is anyway not a problem because the fabric absorbs very little water and dries superfast.
Verdict
The Patagonia Capilene Midweight Zip-Neck is a great base layer for sports activities in cool and cold conditions. It's breathable, quick-drying, moisture-wicking and odor resistant. I was also impressed with the quality of materials and the fit. The base layer fits snugly but because it's made of very stretchy materials and has raglan sleeves it provides excellent freedom of movement. The fabric is very soft and gives a very pleasant feel against the skin. I found the base layer extremely comfortable to wear for both hiking and running. I'm also impressed with the base layer in terms of sustainability where Patagonia indeed took the high road. So, if you are looking for a new base layer for cold conditions, I do recommend the Patagonia Capilene Midweight Zip-Neck.
If you have any questions about this product, drop me a line in the comments below.
Rating
| | |
| --- | --- |
| Design | |
| Quality | |
| Comfort | |
| Functionality | |
We field tested this product. The rating shows its overall performance.About Rating
Pros:
Breathability
Drying time
Odor resistant
Stretchy material
Warm
High-quality materials
Cons:
Where to buy?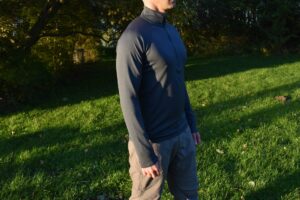 Patagonia Capilene Midweight Zip-Neck
Buy from Patagonia