As the temperatures rise and you store your warm hiking hat or beanie at the back of your closet, you might consider bringing a sun hat for your outdoor adventures instead. Even if you are not old enough to remember the iconic Slip-Slop-Slap sun protection campaign from 1980s, you can probably recall from various other sun safety campaigns that wearing a wide-brimmed hat is widely recommended. This is due to the fact that the face, head and neck are exposed to the sun's damaging UV rays most of the year all the while the skin in these areas is also thinner. It is therefore more sensitive to burns and development of skin cancers (especially basal and squamous cell skin cancer).
People who are bald or shave their heads will naturally pay more attention to protecting their scalp on long days in the outdoors, but others will benefit from shielding their scalps from the sun as well. When it comes to the face, it is important to note that a sun hat should be used in conjunction with sun cream as the sun rays will also be reflected from shiny surfaces (water, grass, sand etc.) up into your face. However, as people are often sloppy with applying sun cream or only apply it once daily, a sun hat is great way to ensure that you are more properly (and continuously) protected.
A good sun hat will also decrease the amount of UV-rays that reaches your eyes, but in bright sun light it is also advisable to wear a pair of sun glasses (check out our lists of the best pairs for women and men respectively). It is not recommended to use cap-style hats for sun protection on hiking trips as the lack of an all-around brim will leave your neck, ears and the sides of your face fully exposed to the sun. Such hats are better for climbing where you can put it on backwards while being more shielded from the sun at the front due to the cliff or mountain you're conquering.
Updated Content
We regularly update our reviews and selections to always recommend you the best products on the market.
Expert Selections
We only list top-tier products. Read how our selections of best hiking products differ from others here.
Links
We use affiliate links and may receive a small commission on purchases at no extra cost to you.
1. Our Picks of Sun Hats for Hiking
2. Comparison of Sun Hats for Hiking
3. The Selection
1. Tilley LTM6 Airflo
Suitable for:
Hiking
Mountaineering
Trekking
Backpacking
Travelling
Tilley makes some of the best outdoor hats on the market and the LTM6 Airflo model is a prime example of the craftsmanship in the company. The Tilley LTM6 Airflo is made of UPF50-rated nylon but it is the thoughtful construction details that sets the hat apart – such as the mesh inserts at the crown (along with a hidden hook-and-loop pocket for small valuables) and a wicking Hydrofil sweat band to keep your head cool as well as closed-cell foam in the top that will keep the hat afloat, should it fly off your head and land on water. Tilley hats are available in a whopping eleven sizes to make sure that you achieve that perfect fit. Simply measure the horizontal circumference of your head just above your eyebrows and refer to the Tilley size chart, which you can find on REI (for example, their size 7 fits a 22 inch head). The Tilley LTM6 Airflo might be the most expensive hat on this list, but it is also a hat you can use for the rest of your life.
Pros:
Superb construction with sense for the details
Guaranteed for life
Up to eleven sizes available per color enable a perfect fit
Cons:
Where to buy?
Also available at:
Video
2. Outdoor Research Sombriolet
Suitable for:
Hiking
Mountaineering
Trekking
Backpacking
Travelling
Outdoor Research's Sombriolet sun hat is incredibly comfortable to wear on hot summer days as the internal mesh structure holds the crown of the hat slightly over your head while the warm air can escape through mesh vents. The brim contains foam that will keep the hat afloat, should you lose it near bodies of water, but also features a discrete cord along its edge to keep it from flapping up on windy days. Note that all color variations of the Sombriolet sun hat have a dark grey underside to absorb light and decrease glare. If you like the Sombriolet but would like something slightly more feminine, you should check out the Outdoor Research Sombrero hat for women – which is also available in some less demure colors. The Outdoor Research Sombriolet is available in three sizes: Medium fits heads with a circumference between 22¼ and 23 inches (56.5 -58.5 cm), Large those between 23 and 23¾ inches (58.5-60 cm) and finally XL fits circumferences between 23¾ and 24 inches (60-61 cm).
Pros:
Mesh structure keeps hat slightly above your crown
Grey underside to decrease glare
Mesh vents for extra ventilation
Cons:
Where to buy?
Also available at:
3. Sunday Afternoons Ultra Adventure Hat
Suitable for:
Hiking
Mountaineering
Trekking
Backpacking
Travelling
The hat which offers the most protection of the back of your neck is unquestionably the Sunday Afternoons Ultra Adventure hat with its six inch neck cape in addition to its three inch folding clamshell brim, which makes it super packable. It is made of a bluesign-approved blend of nylon and polyester, which means that it was manufactured in a responsible and sustainable way for the environment. The crown gets extra ventilation from two mesh panels. The Sunday Afternoons Ultra Adventure Hat comes in two sizes – M (head circumferences 21.25 – 22.9 inches/54-58 cm) and L (head circumferences 22.9 – 24.6 inches/58-62.5 cm), but it can also be customized furthermore with the external adjusting band. It is available in a handful of cool colors.
Pros:
Sweat- and water-resistant fabric
Super packable
 "Sleeves" for the temples of your sunglasses keep them in place on top of the hat, when not in use
Cons:
Less suitable for everyday life than other hats on this list
Where to buy?
Also available at:
Video
4. Columbia Bora Bora Booney II Hat
Suitable for:
Hiking
Mountaineering
Trekking
Backpacking
Travelling
Columbia describes the Bora Bora Booney II hat as a high-performance fishing hat, but its qualities are just as appreciated among hikers and other outdoorspeople. The Columbia Bora Bora Booney II hat combines a quick-drying UPF50 nylon fabric with an Omni-Wick sweatband and non-UPF mesh panels to ensure that your head is not only protected against the sun, but also remains cool in the heat. Unlike the other sun hats on this list, it is available in a wider range of colors but only in one size. The One Size should, nevertheless, fit heads with a circumference from 21¼ to 24½ inches (54-62 cm) as the headband has a drawcord and toggle at the back to adjust the fit.
Pros:
Price
Omni-Wick sweatband
Mesh panels for extra ventilation
Cons:
One Size only (can be adjusted with internal drawcord)
Where to buy?
Also available at:
Video
5. Sunday Afternoons Havana Hat
Suitable for:
Hiking
Mountaineering
Trekking
Backpacking
Travelling
Everyday life
The Sunday Afternoons Havana hat is the most casual-looking of all the hats, but don't let its laidback style fool you into believing that this is just a run-of-the-mill straw hat. The breathable fabric (90% paper and 10% polyester) provides UPF50+ protection, and the hat is also equipped with a wicking sweatband. In terms of fit, the Sunday Afternoons Havana hat comes in three sizes – Small for heads between 21.25 and 22 inches (54- 56 cm) in circumference, Medium for 22 – 22.87 inches (56-58 cm) and Large for 22.87 – 23.87 inches (58-60.6 cm). The fit can, however, also be adjusted by loosening or tightening the internal band and securing it with the hook and loop fastener. The fedora-style hat is packable which means that you can roll it up and store it in a pocket when not in use. The Sunday Afternoons Havana hat comes in three subtle natural colors.
Pros:
Casual look
Internal adjustable sizing
Packable
Cons:
Where to buy?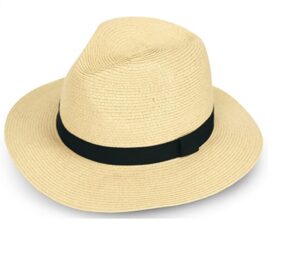 Sunday Afternoons Havana Hat
Buy from REI
Also available at:
Video
4. Hiking Sun Hat Buying Advice – What is important?
Width of brim:
FDA and other organizations recommend that you wear a wide-brimmed hat of tightly woven opaque fibers for sun protection, preferably with an at least 4 inches wide brim, but when it comes to hiking it is important that the brim is not so wide or floppy that it intervenes with your field of vision. Therefore all sun hats on this list have a brim that is at least 2.75 inches wide at the front and back. It is an advantage if the underside of the brim is in a dark color that reduces glare from shiny surfaces etc.
Material:
A sun hat for hiking should be made of a material that not just offers good sun protection (e.g. has a high UPF-rating, see below) but also feels comfortable to the touch while being moisture-wicking, quick-drying and abrasion-resistant (twigs and thorns in dense vegetation). It should be noted that loosely woven straw hats provide very little sun protection – as a rule of thumb; do not wear a hat for sun protection if you can see light shining through its fibers.
UPF-rating:
The UPF-rating of a material indicates how much UV-radiation it lets through to your skin. A UPF-rating of 50 means that 1/50 UV rays (≈2 %) is emitted through a given fabric or, said differently, that it protects against 98 % of UV-radiation. The most important parameter for the UPF-rating is the tightness of the weave in the fabric used, but other factors such as construction, fiber type (wool, polyester, cotton etc.) and amount of stretch, dyes, treatments and condition of the garment (brand-new or worn-out) also influence the level of UV-protection. Read more in our article about sun protective clothing.
Fit and Sizing:
It is important you use a properly fitting sun hat for hiking; if it is too tight, it will feel increasingly uncomfortable through the day while a sun hat that sits too loosely on your head is prone to dip or fall off depending on the wind as well as your movements. To find the right size of hat, it is important that you know the circumference of your head. You measure it by circling the crown of your head just above the eyebrows and ears in a horizontal line with a piece of string, and then use a ruler to measure the length of the string required to encircle your head. You can also use a plastic tape measure (not the metal one from the hardware store!), but it might not be as precise. When you have the measurement of your head, you can compare it to the size ranges for each sun hat model, which we have included in the product descriptions above.