In late spring we were contacted by the American startup Ombraz, which after a successful IndieGoGo campaign launched their line of high-quality sunglasses without sidearms! I was immediately intrigued by the concept and agreed to test one of their styles in return for an unbiased review. I received the sunglasses two months ago and has since worn them on a daily basis throughout July and August. I can thus say that Ombraz Classic sunglasses are suitable for:
Hiking
Mountaineering
Climbing
Backpacking
Swimming
Mountain biking
Everyday use
The Concept, Frame and Materials
All Ombraz sunglasses consist of a hand-carved plant-based cellulose acetate frame, where the end pieces are equipped with two holes each (instead of hinges and sidearms), through which a smooth custom-woven 100% recycled Japanese nylon cord is attached. At the back, each piece of nylon cord runs through one plastic bead and is attached to another. This makes up a minimalistic but functional adjustment system: By pulling on the cords next to the two plastic beads, you loosen the cord and by pulling on the beads themselves you tighten the fit. Once you get the hang of it, it is really easy to adjust on the go although you do need both hands to put them on – and both hands to adjust the fit. When I first unwrapped and tried on the Ombraz Classic sunglasses I immediately noticed that the materials seem high-quality, durable and luxurious.
Durability is indeed one of the keywords for Ombraz as the armless concept originated when somebody accidentally broke the sidearms of cofounder Jensen Brehm's sunglasses, and he had to wear them with a twine tied between the hinges. Indeed, all sunglasses I have discarded throughout my life have either had their lenses scratched badly or lost one or both sidearms. By eliminating the sidearms, Ombraz has thus taken a big step towards making their products last longer than conventional sunglasses, and also the lenses are hard-coated impact- and scratch-resistant from world-renowned Zeiss optics in Germany. On Youtube you can even find a video where a pair of Ombraz sunglasses are exposed to everything from a tap dancer to a bulldozer. I didn't have the heart to expose my Ombraz Classics to that kind of hardships, but I did leave my destructive toddler to play with them and mainly stored them in my shoulder bag where keys, toys etc. could scratch them. Yet, they are without a scratch to this day.
Lenses
The Ombraz sunglasses (regardless of model) are available with both polarized (in the colors grey, brown or yellow), non-polarized (grey or brown), prescription (grey) and clear blue blocker lenses. I chose the polarized grey, which offers true color perception and minimizes glare from water and other glistening surfaces. This lens also has the darkest tint (which I prefer for aesthetic reasons) and block out 89% of the visible light, but all the polarized lenses on Ombraz sunglasses are category 3 as they block out 80-89% of the visible light.
I have never owned a pair of sunglasses with polarized lenses before and I especially enjoy wearing the Ombraz Classic sunglasses for swimming as the majority of glare from the sun on water is eliminated. The lenses are also treated to be hydrophobic and oleophobic, which helps to keep them clean and clear regardless of the conditions. Otherwise, you can wipe them off with the microfiber cloth which is ingeniously attached to the neoprene storage pouch, that is included when buying a pair of Ombraz sunglasses.
Comfort, Fit and Functionality
When I was introduced to the armless concept of Ombraz, my first thought was: What about the protection that the sidearms offer by blocking the sun light out from the sides? Because the Ombraz sunglasses have a base curve 6, the frame follows the curve of the face quite nicely but doesn't wrap around the face as closely as base curve 8 or 9 glasses would. The end pieces, where the cord is attached, do block a bit of the sides as they protrude about 5mm out from the frame itself, but all in all I'd say that the Ombraz Classic sunglasses block the sunlight from the sides in the same way that other base curve 6 sunglasses with thinner sidearms do (for example the classic Ray-Ban Aviator).
Whether this is good enough or not, is up to your personal preference and usage. My eyes are perhaps a bit more light-sensitive than others because I had LASEK surgery on both eyes in 2011, but I was only "let down" by the Ombraz Classic once or twice while driving in the sunset with the low sun shining in directly from the side. Otherwise, I must say that I have been very satisfied with them. Once fitted correctly, they are incredibly comfortable to wear. I particularly appreciate the absence of pressure on the temples from sidearms, as this is something which often bother me with conventional sunglasses.
I was a bit reluctant to use the Ombraz sunglasses for hiking to begin with because I have a habit of frequently shifting between wearing my sunglasses and pushing them up on my head during a break or if there is a change in light or weather. I thought I might have to adjust the fit of the Classic sunglasses every time I would move them up or down, but it turned out that if fitted correctly, either position of the sunglasses feels comfortable without having to readjust the fit. This was also useful for driving in more hilly areas where I would have to push up the sunglasses whenever driving through a tunnel. Fit-wise, I should mention that all three styles of Ombraz sunglasses come in two sizes: The Classic (which I tested) comes in Regular and Narrow, the Dolomite in Narrow/Regular and Large, and finally the Ombraz Leggero in Regular and XL. With a head circumference of 55 cm (21½ inches), the Regular model of the Ombraz Classic fits me just right.
Verdict
The Ombraz sunglasses are a completely new take on the concept of sunglasses for outdoor activities. The armless design and top-notch materials make them much durable, and the absence of sidearms makes them so comfortable that you often forget that you are wearing them! The only downside is that the Ombraz Classic sunglasses do not block sun light coming from the side as efficiently as sunglasses with a curvier frame base and/or wide sidearms.
If you have any questions about this product, drop me a line in the comments below.
Rating
| | |
| --- | --- |
| Design | |
| Quality | |
| Comfort | |
| Functionality | |
We field tested this product. The rating shows its overall performance.About Rating
Pros:
Light and comfortable to wear without pressure at the temples
Fits everybody due to adjustable cord
World-class polarized Zeiss lenses
Included neoprene pouch with attached cleaning cloth
20 mangrove trees planted for every pair sold
Cons:
Do not block sunlight from the sides as efficiently as conventional sunglasses
You need both hands to put them on and adjust the fit.
Where to buy?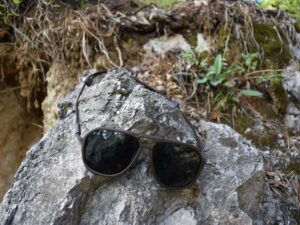 Ombraz Classic Sunglasses
Buy from Ombraz