In an ideal world all outdoor activities would take place in sunny dry weather. However, even if you plan your hiking trips meticulously after the weather forecast, there is always a chance that you will run into some unforeseen rain – especially at higher altitudes where the weather can change abruptly. A quality rain jacket is therefore an essential to carry in your backpack; it will not add too much weight to your load and comes in very handy whenever you will cross paths with rain showers or chilling winds. You can wear a rain jacket directly over your base layer in warm weather or over mid layers such as a fleece sweater in colder weather.
Rain jackets can generally be divided into three groups; 2-layer, 2.5-layer and 3-layer rain jackets (also called hard shells). 2-layer (fabric with coating) rain jackets are usually quite heavy for the protection they offer and thus more suitable for everyday life, but there are exceptions such as GoreTex's PacLite fabric. Otherwise, your choice is between a 2.5-layer (face fabric with coating/laminate + non-fabric material inside) and a 3-layer (face fabric + membrane + liner) rain jacket. 3-layer rain jackets are especially suitable for those who are into ice climbing, mountaineering and long hiking trips where durability is a priority. They are, however, also heavier and often more expensive than 2- and 2.5-layer jackets. Therefore we primarily focused on 2.5-layer rain jacket in the selection below.
Updated Content
We regularly update our reviews and selections to always recommend you the best products on the market.
Expert Selections
We only list top-tier products. Read how our selections of best hiking products differ from others here.
Links
We use affiliate links and may receive a small commission on purchases at no extra cost to you.
1. Our Picks of Women's Rain Jackets for Hiking
2. Comparison of Women's Rain Jackets
Feature/Product
Patagonia Torrentshell 3L
Arcteryx Zeta SL
Outdoor Research Helium
Rab Downpour

Marmot Precip Eco
Average Weight
12.5 oz.
9.5 oz.
6 oz.
10 oz.
10.2 oz.
Average Weight (Metric)
354 g
270 g
156 g
281 g
290 g
Fabric Layers
3-layer
2-layer
2.5-layer
2.5-layer
2.5-layer
Materials
3.3-oz 50-denier ECONYL® 100% recycled nylon ripstop
GORE-TEX fabric
30D Ripstop Nylon
100% Nylon Pertex Shield+ 2.5L fabric with Dry Touch
100 % recycled Nylon Ripstop 2.4 oz/ yd
Waterproof/
Breathable Technology

H₂No Performance Standard (polycarbonate PU membrane)
Gore-Tex PacLite Plus (waterproof breathable membrane)
Pertex Shield+ (Laminate)
Pertex Shield with Dry Touch
NanoPro (Coating)
Center Back Length
27 in. (69 cm)
27.4 in. (69.7 cm)
26 in. (66 cm)
28.3 in. (72 cm) in size L
27.5 in. (70 cm)
3. The Selection
1. Patagonia Torrentshell 3L
Suitable for:
Hiking
Trekking
Mountaineering
Backpacking
The Patagonia Torrentshell used to be a 2.5-layer jacket, but has been converted to a 3-layer jacket. It features the brand's H₂No Performance Standard technology, and consists of a DWR-treated 3.3-oz 50-denier ECONYL® 100% recycled nylon ripstop face fabric, polycarbonate PU membrane with 13% biobased content and a tricot backer. The neck is lined with microfleece for extra comfort while the adjustable hood is equipped with a laminated visor and can be rolled down and secured with a simple cord-and-hook design. In terms of pockets, the Patagonia Torrentshell 3l has two zippered handwarmer pockets – the left one also functions as a stuff sack with a carabiner clip-in loop, so you can stow the jacket away conveniently until the rain starts falling. The pocket zippers as well as the pit zips are DWR-treated and equipped with welded exterior storm flaps, while the snag-free center zipper features both an internal and external storm flap. The Patagonia Torrentshell rain jacket is one of the most sustainable choices on this list of best rain jackets for women as as the Fair Trade Certified Sewn jacket is made of a bluesign approved fabric.
Pros:
Durability
Comfort
bluesign® approved fabric and Fair Trade certified sewn
Cons:
Slightly heavier than 2- and 2.5-layer rain jackets
Where to buy?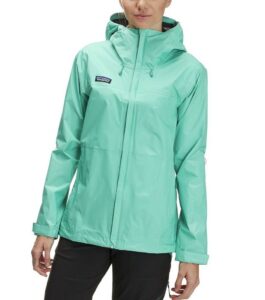 Patagonia Torrentshell 3L
Buy from Patagonia
Also available at:
2. Arcteryx Zeta SL
Suitable for:
Hiking
Trekking
Mountaineering
Climbing
Alpine Climbing
Backpacking
The Arcteryx Zeta SL rain jacket differs from the other rain jackets on this list by being a 2-layer jacket. This does, however, not mean that the Arcteryx jacket is inferior in quality as it is made of GoreTex PacLite Plus fabric which is light-weight, breathable and water-proof. It is made with a mini ripstop construction to provide increased tear strength without impacting weight. Another benefit of this material – as the name implies – is that it packs very well by being highly compressible. The Arcteryx Zeta SL Hybrid rain jacket features a multitude of smart design details such as a trim-fitting StormHood, no-lift gusseted underarms, a tall collar and a micro seam-allowance to reduce bulk and weight. The only downside of the Arcteryx rain jacket is that its WaterTight zippers are highly water-resistant, but not water-proof – so be careful with storing electronics etc. there in heavy rain.
Pros:
GoreTex PacLite fabric
Smart design details
Packs down very small
Cons:
WaterTight zippers not completely water-proof
Video
3. Outdoor Research Helium
Suitable for:
Hiking
Trekking
Mountaineering
Backpacking
The Outdoor Research Helium rain jacket is an updated version of the original Helium jacket, now lighter than ever (merely 156 grams!) and even more breathable. The Helium jacket features the Pertex Shield+ fabric which is characterized by its hydrophilic PU membrane that provides so-called dynamic breathability. This means that whenever your body temperature rises and the membrane comes in contact with perspiration from your body, it will transport the moisture to the outside via solid state diffusion. The Outdoor Research Helium rain jacket can be packed into its internal pocket, which doubles as a stuff sack, and will thus not take up much more space than an apple – and weigh even less. Due to its weight and rain protection, the Helium jacket is not just highly appreciated among hikers, but was also deemed the best waterproof running jacket by Runner's World in 2015 and considered the best rain jacket for cold weather canoeing by the Canoe & Kayak magazine (February 2016). The Outdoor Research Helium rain jacket comes in a range of funky colors.
Pros:
Super light weight
Internal pocket doubles as stuff sack
Cons:
30D nylon medium durability
Where to buy?
Also available at:
4. Rab Downpour Eco
Suitable for:
Hiking
Trekking
Mountaineering
Climbing
Alpine Climbing
Backpacking
British Rab is behind numerous high-quality shells layers and the Rab Downpour Eco rain jacket is no exception. It is made of 2.5-layer Pertex Shield with DryTouch to ensure breathability, durability and packability besides weather protection. With regards to packability, the left zippered hand pocket doubles as an integrated stuff sack. The Rab Downpour Eco otherwise features adjustable cuffs, external and internal stormflaps (also for hand pockets and pit zips) and a fully adjustable hood with a flexible polymer peak and roll down closure. The pit zips allow you to get rid of superfluous body heat fast. The Rab Downpour Eco is available in black and a handful of playful colors.
Pros:
Pertex Shield+ fabric
Waterproof zippers
Cons:
Where to buy?
Also available at:
5. Marmot Precip Eco
Suitable for:
Hiking
Trekking
Mountaineering
Backpacking
The Marmot Precip jacket has been a part of Marmot's product line since 2001, but has been updated several times since then in order to increase breathability and cut down on excessive weight. The latest development is the even lighter Marmot Precip Eco rain jacket, where the main material is the 100 % recycled nylon ripstop NanoPro Eco fabric and the DWR-treatment is PFC-free. The NanoPro technology for breathability is, however, the same and works by the densely packed microscopic pores in the water-proof coating allowing dynamic air exchange. This means that whenever the coated surface comes in contact with perspiration from your body, it will transport the moisture to the outside via solid state diffusion. The Marmot Precip Eco comes in a multitude of colors and with very useful features such as a double storm flap (to protect the non-waterproof zipper), pit zips, adjustable roll-up hood with integral collar, DriClime lined chin guard as well as the Angel-Wing movement design which ensures full freedom of movement without the jacket riding up.
Pros:
Sustainable fabric
Double storm flap
Price
Available in all colors of the rainbow
Cons:
Less breathable material than other rain jackets listed here
Zipper is not waterproof
Video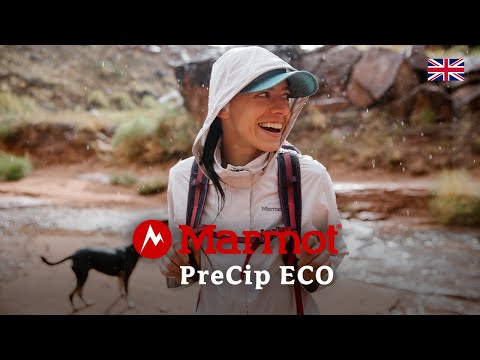 4. Rain Jacket Buying Advice – What is important?
Water-resistance and breathability
It is not expensive or difficult to produce waterproof materials as such (think of black trash bags) – rather the art lies in making waterproof and breathable materials when it comes to rain jackets. The purpose of wearing a rain jacket is of course to stay dry rather than being soaked by rain, but it does not make much sense if you will instead be soaked in your own sweat due to a non-breathable fabric trapping your perspiration rather than wicking it away. In both cases your body temperature will decrease significantly due to the conductive heat loss. It is thus crucial that the fabric of your rain jacket can wick the inner moisture away as well as keep the rain out. Different manufacturers take different approaches to solve this problem; some apply a waterproof/breathable membrane to the face fabric while others paint a coating of polyurethane to the inside of a fabric to give it water-resistant properties. Water-resistance is usually improved additionally by treating the outside of the fabric with DWR (Durable Water Repellant) to make sure that the fabric repels water rather than absorbing it.
You can read more about the properties of DWR-treatments, membranes and coatings respectively in the section on hard shells in our Comparison of Shell Materials. One thing to note, however, is that not all shell materials are equally breathable. The best performing in this aspect are currently eVent, Polartec Neoshell and Mountain Hardwear's DryQ Elite, but also Gore-Tex Pro (not to be mistaken for the older and inferior Gore-Tex Pro Shell) is a good contender. Unlike other materials, they do not require the presence of high body heat to initiate so-called dynamic breathability, but are indeed breathable on their own. These fabrics are unfortunately also more expensive than less breathable materials whereas water-resistance is quite comparable across various price classes. Keep in mind that there is no such thing as a completely waterproof and breathable fabric; all breathable rain jackets will eventually get soaked if you expose them to hours and hours of torrential rain.
Weight and compressibility
A rain jacket is only meant to be worn when you need protection against rain or wind; otherwise it should be stored in your backpack. Therefore it is a good idea to get a rain jacket which is light and compressible enough for you to carry wherever you go rather than a heavy and bulky garment which you will be reluctant to bring along unless absolutely certain that you will need it.
Functional Features
A rain jacket should have a hood (potentially one that can be packed and stored into the collar), taped seams and a storm flap to cover the front zipper in order to keep out rain from all angles. Waterproof zippers such as PU (polyurethane) or YKK AquaGuard zippers can, however, diminish the need for the latter. Other useful features could be pit zips (for increased ventilation when needed) and conveniently placed pockets for storing essentials – which is especially crucial if you are planning to use your (3-layer) rain jacket for climbing activities where you will wear a climbing harness most of the time.
Sizing
Consider what you will be wearing underneath your rain jacket before choosing a size. If you are planning to wear it over bulky items such as a down jacket or thick fleece sweater, you might want to size up.