A pair of good hiking boxers makes hiking more comfortable and reduces the chance of your skin getting chafed and rubbed in sensitive areas. In the summer we got activewear from the American brand Ibex for testing. Ibex specializes in Merino wool clothing and is known for producing top-notch hiking apparel. I received the Ibex Natural Boxer Briefs and immediately started wearing them for hiking, running and everyday use. I was very happy to see that the Ibex Natural Boxer Briefs are not made of 100% Merino wool but also utilize a small percentage of Nylon and Spandex fibers. That makes the boxers more durable and stretchy. While I'm a big fan of Merino wool, I did have problems with durability of Merino underwear in the past. In the last few months, I thoroughly tested the Ibex Natural Boxer Briefs and here is what I learned about them.
The Ibex Men's Natural Boxer Briefs are suitable for:
Hiking
Mountaineering
Backpacking
Running
Everyday use
Material and Performance
When I unwrapped the Ibex Men's Natural Boxer Briefs I immediately noticed that they are made of high-quality materials. The fabric is extremely pleasant and soft to the touch. The boxers are made of Merino wool (83%), Nylon (12%) and Elastane (5%). Nylon increases the durability and lifespan of the boxers, and the Elastane makes them somewhat stretchy. The fabric is quite thin and porous, which usually means that it provides superb breathability. The density is 140g/m2.
Hiking underwear should be comfortable, breathable, moisture-wicking, quick-drying and odor-resistant. These are in my opinion the most important qualities when it comes to hiking underwear. Therefore, that's what I focused on while testing the Ibex Boxer Briefs. In the summer I often wore them for hiking, and I was positively surprised about how breathable they are. They provide great breathability and since they are made of Merino wool, they also efficiently pull the moisture from you skin. Another benefit of the thin fabric is that the boxers dry very fast. Merino wool is naturally microbial and thus the boxers provide great odor control. I typically wear them for up to three activities before washing them because they simply don't get stinky.
Now, I've only had these boxers for a few months but so far, I haven't noticed any damages or tears on them. The fabric seems pretty robust, so I'm not worried that the boxers will start tearing anytime soon.
Comfort and Features
The Ibex Men's Natural Boxer Briefs feature flatlock seams, a fly and an elastic waistband. The waistband is made of quick-drying and comfortable material. During the testing period I haven't noticed any discomfort coming from the waistband, which is otherwise the part of boxers, that can cause discomfort, especially when it gets wet with perspiration. These Ibex boxers also feature a printed label with washing instructions. I really liked that, because traditional labels often cause discomfort. So, in terms of comfort I was really happy with the Ibex Men's Natural Boxer Briefs. Not to mention that the fabric is very soft and stretchy. That additionally increases the comfort.
Sizing and Fit
I got the Ibex Men's Natural Boxer Briefs in size M and they fit me perfectly. My waist circumference is 89 cm (35 in.). According to the size guide on Ibex's website I should go for size L. Nevertheless, I decided to go for size M and that was the right decisions. The thing is that the boxers are quite stretchy and thus it's better to size down if you're in doubt. I'm really happy with the fit of these boxers. They fit snugly but not too tight. The stretchy fabric also provides great freedom of movement.
Washing and Drying
The Ibex Natural Boxer Briefs can be machine washed at 30° C. As with other sports clothes you shouldn't use bleach or softeners. The boxers also shouldn't be tumble dried. Air-drying them is anyway quite fast because they absorb very little moisture and are made of a porous material. We recommend using a special wool detergent for washing Merino wool clothes. Read more about why you should use a special detergent for woolen clothes in our article How to Wash Outdoor Clothing.
Note that Merino wool apparel doesn't have to washed after each activity as it's naturally antimicrobial and doesn't get stinky as fast as clothes made of other materials. By washing less you're also reducing the environmental footprint of your clothing.
Verdict
The Ibex Natural Boxer Briefs are extremely comfortable and thus suitable for both sports and everyday use. These boxers surprised me with its superbly soft and smooth fabric. It was a pleasure to wear them for all kind of activities. I was also very happy with their breathability, moisture-wicking performance and drying time. They were perfect for aerobic activities such as hiking and running. Since the fabric also includes a small percentage of Nylon fibers the boxers provide much better durability than boxers made of pure Merino wool. So, if you're looking for a pair of good Merino boxers for sports and everyday use, I do recommend the Ibex Natural Boxer Briefs. They're great!
If you have any questions about this product, drop me a line in the comments below.
Rating
| | |
| --- | --- |
| Design | |
| Quality | |
| Comfort | |
| Functionality | |
We field tested this product. The rating shows its overall performance.About Rating
Pros:
Thin porous material
Breathability
Moisture-wicking
Tag-free construction
Cons:
Where to buy?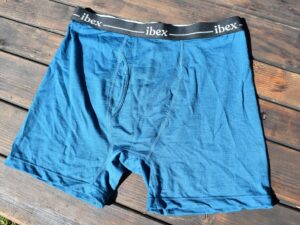 Ibex Natural Boxers
Buy from Ibex Merino