For the past two years I noticed that more and more brands specializing in Merino clothing have begun offering base layers made of a mix of Merino wool and Tencel fibers. I have been curious to see what the fuss was about, and I was thus very excited when the American Merino specialist Ibex reached out to us with the opportunity to test the Ibex Merino Tencel t-shirt in return for an unbiased review. I received the t-shirt along with the brand's Merino Journey t-shirt (to be reviewed separately later) in the beginning of August and have been wearing them both for hiking and everyday life.
Material and Performance
The Ibex Merino Tencel t-shirt is, as the name implies, made of a blend of Merino wool (45%) and Tencel (45%) fibers spun around a nylon core (10%) for better durability. The first impression of the Merino Tencel fabric is that it is very similar in feel to that of the Ibex Journey t-shirt (89 % Merino wool, 11 % nylon) or Blaz's Icebreaker Tech Lite t-shirt (87 % Merino wool, 13 % nylon) – which are both made of 150 g/m2 fabrics as well. Upon closer inspection, there is, however, an extra suppleness and elasticity to the Merino Tencel fabric compared to the synthetic Merino blends as well as 100 % Merino base layers like the Isobaa Merino 150 t-shirt. When wearing the Ibex Merino Tencel t-shirt, the difference becomes even more apparent because it is much cooler to wear in warm weather than any of the above-mentioned base layers.
While we have written extensively about Merino wool through the years, Tencel is more of the new kid on the outdoor apparel block. Last year I reviewed the FreeReign tank top, which is made of 73 % Tencel fibers blended with synthetics, but that fabric felt much more like thick cotton, and is thus not comparable to the Ibex Merino Tencel t-shirt. For those completely unfamiliar with Tencel, I should mention that the natural material is made from wood pulp of sustainably grown eucalyptus, and has similar qualities to Merino wool such as being soft, breathable, moisture-wicking and odor-resistant. Both have thermo-regulating properties, but where Merino wool feels warm on the skin, Tencel feels cool – which makes it great for warm temperatures. I have yet to test it in cold weather.
Sizing and Fit
According to Ibex's sizing chart, I should exactly be a size Medium in tops and as I think the t-shirt fits me very well, the sizing seems to be on point. It is worth noticing that the Ibex Merino Tencel t-shirt for women is relatively short compared to other outdoor t-shirts. The center back length is 22 inches (56 cm), so four inches shorter than that of the brand's Journey t-shirt. It is not a cropped top, but it does merely come to the top of my hipbones, about four inches below my navel. This does not apply to the men's version of the Ibex Merino Tencel t-shirt, which is less than an inch shorter than the Journey t-shirt for men.
Features
Besides length, the women's version of the Ibex Merino Tencel t-shirt differs from the mens' by having a chest pocket. As one would probably not use this pocket for storing much more than a bus ticket, it should be considered decorative rather than functional. In terms of seams, the Ibex Merino Tencel t-shirt is made with regular seams rather than flatlock seams, which is completely fine since it is a quite loose-fitting base layer. The side seams are reinforced for extra durability, but in my experience, it is rarely the seams which cause durability issues in Merino clothing but rather the wear and tear on the fabric itself.
A small minus is that the shoulder seams are placed on top of the shoulders, which means that carrying a heavy backpack can cause chafing. The construction is otherwise tag-free to minimize chafing, and thus the washing instructions are merely printed in the back of the neck. The neck also features back neck tape (an extra ribbon of fabric in the back) to prevent the neckhole from stretching out over time, which is a feature I had never noticed before although it is very common. I have thus added it to our Outdoor Clothing Glossary.
Washing and Drying
When washing a garment made of different fiber types, you should always treat it as the more sensitive type. In this case, however, Merino wool and Tencel should be treated quite similarly, i.e. washed at low temperatures (30 ºC) with a non-bio/wool detergent, steering clear of bleach and softeners, and air-dried rather than tumble-dried as this would dramatically decrease the lifespan of the garment. In my review of the FreeReign tank top, I mentioned how it took forever to dry, but this is far from the case with the Ibex Merino Tencel t-shirt. It might take a bit longer to dry than the Ibex Journey, but we're talking an hour or two, not like half a day or more. You can read more about washing (and drying) outdoor clothing in this guide of ours.
Verdict
If you are love Merino clothing, but want something a bit more cooling for warm days I absolutely recommend the Ibex Merino Tencel t-shirt. The fabric is simply superb, being soft, supple, breathable, odor-resistant and moisture-wicking. Nevertheless, I would wish that the shoulder seams had been placed differently or made with flatlock seams to prevent chafing when carrying a backpack.
If you have any questions about this product, drop me a line in the comments below.
Rating
| | |
| --- | --- |
| Design | |
| Quality | |
| Comfort | |
| Functionality | |
We field tested this product. The rating shows its overall performance.About Rating
Pros:
Soft, breathable and moisture-wicking fabric
Tencel content makes it cooler than other Merino blends
Odor-resistance
Sustainably produced
Cons:
Bulky shoulder seams on top of shoulders
Shorter than most outdoor t-shirts
Where to buy?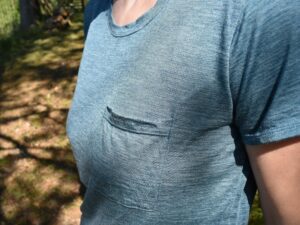 Ibex Merino Tencel T-shirt
Buy from Ibex