In February, I bought the Lowa Renegade GTX Lo hiking shoes and immediately started wearing them for hiking, trekking and everyday use. I'm a big fan of Lowa hiking footwear. I bought my first pair of their shoes, the Lowa Innox GTX Lo, in 2018 and was incredibly satisfied with them. Nevertheless, following the three years of continuous wear, the Innox shoes started tearing. After a thorough consideration I decided not to buy the Innox model again and rather opted for the more robust Renegade. The Lowa Renegade hiking shoe is designed for hiking and backpacking. It's a lightweight shoe although it features a PU midsole and durable leather upper. These characteristics make the shoe very versatile. It can be comfortably worn both on pruned paths and on rough terrain. For the last two months I've been wearing the Renegade shoes daily, investigating the materials, fit and comfort. Below is what I learned about them.
Lowa Renegade GTX Lo shoes are suitable for:
Hiking
Mountaineering
Trekking
Backpacking
Everyday use
The Basics
The Lowa Renegade is designed to be an all-around hiking shoe. Therefore, it can be worn both for easy trails and for hiking in rough terrain. The shoe is made of more robust materials than super lightweight hiking shoes. Nevertheless, it's not much heavier. The Lowa Renegade shoe weighs merely 15 oz. (430 g) which is really not a lot for a shoe with PU midsole and leather upper. In comparison, the Lowa Innox shoe is only 1.7 oz. (50 g) lighter but has a textile upper which doesn't provide the same level of durability.
The Renegade is Lowa's flagship hiking shoe and thus it's of course available in multiple versions. You can get it in low-cut (Lo) or mid-cut (Mid) version, and with or without Gore-Tex. The Gore-Tex models have GTX in the name and models without Gore-Tex are called LL. All variants are also available in women's version and are accordingly labelled Ws. I bought and tested the low-cut model with Gore-Tex lining. If you often hike with a heavy backpack, the Mid model will probably be a better option for you because it provides ankle support. I decided for the Lo model because I wanted sturdy shoes for lightweight hiking and everyday use.
Materials
When I unwrapped the package and took the shoes out, I was impressed by the quality. The shoes are made with high precision and feature very sturdy and robust materials. The upper is made of nubuck leather which feels very smooth to the touch. The Renegade shoe also has a rand which goes around the toe of the shoe for extra protection. The rand is like the upper made of nubuck leather. Now, I was a bit surprised that the rand is not made of rubber like on most other hiking shoes. Nevertheless, this makes the shoe look much more casual. However, it also makes the shoes less suitable for scrambling and via ferrata trails, because the nubuck rand doesn't protect the shoe as good as a rubber rand would.
The Renegade shoe also features the brand's Lowa insole, PU midsole and Vibram EVO TRAC outsole. It uses the same insole as the Lowa Innox shoe. Being a former owner of the Innox shoes, I know that this insole is not particularly durable as I had to replace the insoles on my Innox shoes after less than half of a year. However, insoles are cheap and easy to replace. Therefore, I wouldn't say that this is a major shortcoming. On the other hand, I was impressed by the midsole. The PU midsole provides incredible stability and responsiveness and I dare to say that the midsole is the best thing about these shoes. In comparison to EVA midsoles which are typically used for lightweight hiking shoes, PU midsoles also have a significantly longer lifespan. If you want to learn more about the difference between PU and EVA midsoles, do check out our Guide to Hiking Footwear.  The Renegade shoe comes with a Vibram EVO TRAC outsole. I have only had good experience with Vibram outsoles so far, so I was happy about this feature.
Comfort, Fit and Support
When I started wearing the Renegade shoes, I immediately noticed that they are a bit stiffer than typical lightweight hiking shoes. That makes them a bit less comfortable on easy trails but increases the comfort in rocky/rough terrain. Especially the sole is stiffer, which is not a bad thing when you are ascending steep slopes. It prevents the heel from dropping and thus reduces the calf fatigue.  I think that Lowa in general made a good compromise here so that the shoe is comfortable on easy trails and also suitable for ascending/descending steep slopes.
In terms of fit, the shoe is a bit roomier than my previous hiking shoes. It fits me perfectly when I wear thick socks but with thinner socks, I have to lace it quite tight for good fit. The lacing system is not my favourite. The last (top) pair of eyelets are hook eyelets and that makes lacing the shoes a bit more time consuming and difficult. Nevertheless, I haven't experienced any problems with the laces once the shoes are laced.
The shoes provide incredible support and just the right level of cushioning. They are perfect for hiking on rocky terrain, ascending/descending steep slopes and also hauling heavy loads. I wore the shoes several times when I was hiking with my daughter in the Poco child carrier pack (total weight of 40 lbs/18 kg or so), and I was impressed by the stability and support of the shoes. I also found the shoes comfortable for lightweight hiking on easy trails. Not as comfortable as softer ultralight hiking shoes, but close.
Breathability and Waterproofing
The Lowa Renegade GTX shoes feature a Gore-Tex lining. Since I'm also wearing these shoes for everyday use, I thoroughly tested their waterproofness. I'm very satisfied with the waterproofness in general. I don't recall ever coming home with wet feet, although I wore the shoes in heavy rain more than once.
The Gore-Tex lining of course reduces the breathability to some extent. Nevertheless, it seems to me that the shoes are very breathable. So far, I haven't experienced having sweaty feet while wearing them, although it's true that I haven't tested them in warm weather yet. I did notice though, that the shoes are not as warm as the Lowa Innox shoes were. The leather uppers simply provide less insulation than textile uppers which should be a good thing for hiking in the summer.
Traction
The shoes are equipped with Vibram EVO Track outsoles which have very deep lugs. Therefore, the shoes provide really good traction on gravel trails. The rubber is also a bit sticky and thus the shoes provide excellent traction on rocky terrain and in wet conditions. All in all, I'm impressed by these outsoles. They make hiking not only more enjoyable but also safer.
Sizing
The men's Lowa Renegade shoes are available in UK sizes from 6½ to 15 (EU 40-50; US 7-15) while the women's models are available in UK sizes from 2½ to 10 (EU 35-44; US 4½ -11). I got the shoes in in UK size 9 (EU 43½; US 9) and they fit me perfectly lengthwise. I do find them just slightly too roomy when I wear them with thin socks, but had I bought a smaller size they would be too short. Most of my other shoes are EU size 44 or 43.5. Therefore, the Renegade shoes seem true to size.
Lowa Renegade vs Innox
Since I previously owned the Lowa Innox shoes I will quickly describe the difference between the Innox and the Renegade shoe. The Renegade is a more robust shoe. It's a slightly heavier, stiffer and less comfortable on pruned paths. However, it provides better durability and is more suitable for ascents/descents and rough terrain. The Renegade shoe also comes with superior outsole which provides better traction. If you want hiking shoes just for easy trails, I recommend the Lowa Innox. However, if you want a versatile hiking shoe for various terrain types the Renegade is a better option.
Verdict
The Lowa Renegade GTX Lo is a great all-around hiking shoe. It's suitable for both easy trails and hiking in rough and steep terrain. The shoe is made of high-quality materials and thus provides good durability. I was impressed by stability, support and traction. The Renegade shoes are best for 3-season hiking although they can also be worn in winter, depending on the snow conditions. The only thing that bothered me is the lacing system. It takes a bit longer to lace the shoes. Nevertheless, this is a small thing and all in all I'm really satisfied with the Lowa Renegade shoes.
If you have any questions about this product, drop me a line in the comments below.
Rating
| | |
| --- | --- |
| Design | |
| Functionality | |
| Quality | |
| Comfort | |
We field tested this product. The rating shows its overall performance.About Rating
Pros:
High-quality materials
Stability
Support
Durability
Waterproofness
Traction
Cons:
Where to buy?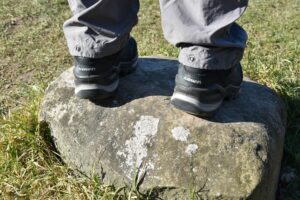 Lowa Renegade GTX Lo Hiking Shoes
Buy from REI
Also available at: