A few months ago, we got in touch with the American company Tread Labs which produces insoles for various types of footwear and activities. All Tread Labs insoles are specifically designed with arch support in mind and thus each model is available in four different arch heights. Now, I'm not an expert in arch support, but according to various studies the right level of arch support can increase balance, stability, recovery and running economy. Since every foot is unique, shoes and boots rarely fit one's arch height perfectly. The more your arch height differs from the average arch height, the worse the fit.
I never had problems with arch support because I have quite normal arch height. Nevertheless, I was eager to test the Tread Labs Pace insoles and see how they compare to other insoles. The Pace insole belongs to the Pain Relief series and is designed to relieve pain from plantar fasciitis and other foot ailments. For the last couple of months, I've been wearing the Tread Labs Pace insoles for hiking, running and everyday use, and below is what I learned about them.
The Tread Labs Pace Insoles are suitable for:
Running
Hiking
Backpacking
Everyday use
Materials and Design
The Tread Labs Pace insole consists of two parts: a stiff arch support and a replaceable top cover. The arch support is attached to the top cover with a Velcro-like system. When I unwrapped the package, I was a bit skeptical over the concept because I doubted that the Velcro system could keep the arch support in place during intensive activities such as running. However, once I started wearing the insoles, I figured out that the Velcro-like system indeed holds the arch support in place regardless of the activity. It attaches the arch support to the top cover very firmly and I haven't encountered any problems during the testing period.
The main benefit of this two-part system is that you don't have to buy a whole new insole in case that the top cover gets worn out or you change to footwear where the top cover doesn't fit in. Tread Labs also sells top covers separately and they are really not expensive. A top cover for the Pace insole will cost you merely $16 while the whole insole retails for $65.
The arch support is made of a relatively stiff plastic material while the top cover is made of polyurethane. I found both pieces high-quality and sturdy. So far, I haven't noticed any durability issues but if I do later on, I will of course update this review.
When I put the insoles in my Lowa Innox shoes for the first time and went on a short walk, I quickly noticed that the insoles indeed add stability. The shoes felt much more stable and comfortable on my feet. Furthermore, the position of the foot also seemed better due to the extra arch support. After that I started using the insoles for sports as well and I was very satisfied with their performance. The only complaint I have is that the insoles are not as breathable as the original insoles of my hiking and running shoes. The Tread Labs insoles are somewhat thicker and have a plastic arch support in the heel area which obviously decreases the breathability to some extent. On the other hand, I was very satisfied with their moisture-wicking performance.  The insoles nicely pulled moisture from my socks during intensive activities. They also seem to be treated with an antimicrobial agent as I've been wearing them for quite some time now, and there are no signs of odor.
Sizing
The Tread Labs Pace insoles are available in European sizes 35 to 47 (US sizes 4 to 13.5 for men and 5 to 12.5 for women). Since the insoles can be trimmed, getting the right size really isn't a problem. I got the insoles in EU size 44 and they were slightly too long to fit into my shoes. So, I just followed this guide from Tread Labs to trim them with a scissor and in a couple of minutes they fitted perfectly. However, getting the right arch height can be a bit trickier. Tread Labs has a convenient fitting guide on their website and according to the guide I should go for the medium arch height insole. Nevertheless, the medium arch height insole was a bit too high for me. Tread Labs subsequently sent me the low arch height insole which fits me much better. So, if in doubt I recommend going for a lower arch height than the fitting guide.
Verdict
All in all, I'm really satisfied with the Pace insoles. They provide great support, improve the position of the foot and make you footwear more comfortable. They are also suitable for just about any activity, from running to hiking. I was also very satisfied with moisture-wicking performance and odor resistance. The only downside is that they are slightly less breathable than insoles that come with high-quality hiking and running shoes. Nevertheless, the insoles have served me great so far and I'll keep using them for hiking, running and everyday use.
If you have any questions about this product, drop me a line in the comments below.
Rating
| | |
| --- | --- |
| Design | |
| Quality | |
| Comfort | |
| Functionality | |
We field tested this product. The rating shows its overall performance.About Rating
Pros:
Support
Stability
Comfortable
High-quality materials
Cons:
Slightly less breathable than insoles that come with high-quality running/hiking shoes
Where to buy?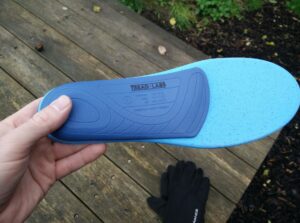 Tread Labs Pace Insole
Buy from Tread Labs