In late August we received the Patagonia Baby Capilene pants to test on our two-year old daughter MK in return for an unbiased review. She has used them for both everyday life and hiking with us throughout fall with no complaints. Although she doesn't have a big vocabulary yet, she is perfectly capable of expressing her dissatisfaction with a garment by saying: "Different one! Different one!". There have been no such comments on the Patagonia Baby Capilene Midweight pants, which are suitable for:
Hiking
Playing and running
Backpacking
The acrobatics of throwing a full-blown tantrum
Travelling
Everyday life
Material
The Patagonia Baby Capilene pants are made of a 4.3 oz (147g/m2) 100% recycled polyester double-knit fabric. Due to the double knit, the inside of the fabric has a soft napped structure with a diamond-grid pattern, where the warm air from the skin is efficiently trapped inside each "diamond".  On the outside, the diamond-grid pattern is less pronounced, but still gives a nice visual effect. The fabric is certified as bluesign-approved, which means that it has been manufactured in a safe manner for both workers and wearers with as little impact on the environment as possible. The workers are also treated fairly while making the Patagonia Baby Capilene pants as they have been Fair Trade-Certified sewn. The only downside of the pants is that the material does seem to snag rather easy, and thus that pulls may appear in the fabric sooner than expected.
Sizing and Fit
The sizing of Patagonia's Baby line is by age, rather than height as I'm used to from Europe. Therefore, I simply asked for the size 2T(oddler) as we were only a month away from MK's 2-years birthday in September. Fortunately, the pants turned out to fit her perfectly although she is somewhat tall for her age. The inseam of the size 2T pants is 29 cm (11.5 in.). The material has quite some elasticity to it, so the Capilene pants should also fit most toddlers around the hips and thighs. The waist band has just the right width and elasticity, so that the pants stay in place without your child getting marks on the skin from too much pressure of an overly stretched elastic. This is something not all manufacturers of kids' clothes get right as we tried pants with waistbands so tight that we had to discard them (although they otherwise fit her) as well as waistbands so loose that the pants slid down.
Comfort and Functionality
The soft, pleasantly warm, and stretchy fabric makes the Patagonia Baby Capilene pants perfect for outdoor activities, whether hiking or playing. Before we got these pants, we often had problems deciding which pants to put on MK when the weather was too warm for insulated clothing and double-layers, yet not warm enough for wearing only thin cotton or Merino leggings. We have definitely both over- and underdressed her sometimes with regards to the temperature. The Patagonia Baby Capilene pants are now her go-to pants for most hiking adventures, as they can be used on their own during warmer spring and fall days as well as all but the warmest summer days. In colder weather they can of course be layered with a pair of insulated pants over.
In addition to the comfort of the soft and stretchy fabric, the pants are made with flatlock seams to avoid chafing. The side seams are slanted, so they start closer to the center back seam and end near the front of the legs. The Capilene pants are equipped with a discrete, but handy hanging loop above the washing tag, which you may find useful in various situations. The logo and place of origin are printed on the inside of the pants, whereas the washing instructions are printed on a long and annoying label, which can, however, be trimmed down to a more reasonable length or removed entirely. The logo tag is placed at the back of the pants.
Washing and Drying
The Patagonia Baby Capilene pants can be machine-washed at 40 ºC and tumble-dried on the lowest setting, but I really don't see any reason for the latter as the fabric absorbs very little water, and thus dries very fast. To prevent any snags in the delicate material from zippers, snaps etc. on other garments in the machine, you can choose to wash them in a lingerie/wash bag. I should mention that the fabric of the Patagonia Baby Capilene pants is treated with the HeiQ Fresh anti-odor treatment like my own Capilene Cool Trail t-shirt and Blaz's Capilene Mid-weight Zip-neck (to be reviewed soon), but unlike the adult garments I think that is actually not necessary for the baby/toddler clothing. Young children rarely, if ever, have actual body odor (foot odor is a whole different story, though!), so it could be left out in my opinion – especially for pants, as people generally sweat less on the lower body. Chances are that you will be washing the Capilene pants because your child has made them dirty, not because they stink.
Verdict
The Patagonia Baby Capilene pants are exactly what we needed for MK going on hiking adventures with us! The pants are light, soft, flexible and comfortably warm to use on their own most of the year. She is often wary of new garments to begin with but has made no complaints over these pants. Chances are that we will buy the next size, once she grows out of this pair!
If you have any questions about this product, drop me a line in the comments below.
Rating
| | |
| --- | --- |
| Design | |
| Quality | |
| Comfort | |
| Functionality | |
We field tested this product. The rating shows its overall performance.About Rating
Pros:
Soft, warm and stretchy material
Flatlock seams all-around
Sustainably produced
Cons:
Material is susceptible to snags
Where to buy?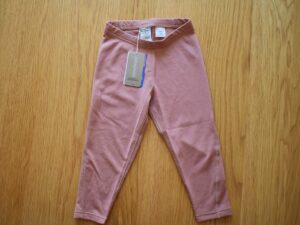 Patagonia Baby Capilene Pants
Buy from Patagonia