Is there anything better than bringing your children, big and small, into nature and showing them the pleasure of hiking and outdoor experiences? While older children can walk on their own, smaller children will inevitably have to be carried some or all of the way as baby strollers will be too troublesome to deal with on all but the most pruned (and even) paths. To use a child carrier pack for hiking safely and efficiently, it is, however, important that the child isn't too small; it should at least be able to sit up straight on its own and have good head control – which usually happens around the age of six months. Smaller children should be carried in a baby carrier or sling on your frontside instead. In the following we have reviewed the best child carrier packs for hiking to make your purchasing decision easier.
Updated Content
We regularly update our reviews and selections to always recommend you the best products on the market.
Expert Selections
We only list top-tier products. Read how our selections of best hiking products differ from others here.
Links
We use affiliate links and may receive a small commission on purchases at no extra cost to you.
1. Our Picks of Child Carrier Packs
2. Comparison of Child Carrier Packs for Hiking
| Feature/Product | Osprey Poco Plus | Kelty Journey PerfectFit Elite | Deuter Kid Comfort | Thule Sapling | Vaude Shuttle Base |
| --- | --- | --- | --- | --- | --- |
| Volume | 26 liters | 26 liters | 14 liters | 22 liters | 20 liters |
| Dimensions | 29'' x 15'' x 17'' | 28'' x 15.5'' x 22'' | 28'' x 17'' x 13'' | 29'' x 12'' x 14'' | 35'' x 17'' x 9'' |
| Weight (Metric) | 7.89 lbs. (3.58 kg) | 7.4 lbs. (3.36 kg ) | 7.17 lbs. (3.25 kg) | 7 lbs. (3.2 kg) | 5.6 lbs. (2.56 kg) |
| Carrying capacity (child + gear) | 48.5 lbs. | 48.5 lbs (child up to 40 lbs.) | 53 lbs. (child up to 48.5 lbs.) | 48 lbs. (child up to 40 lbs.) | 48.5 lbs. (child up to 40 lbs.) |
| Carrying capacity (child + gear) - metric | 22 kg | 22 kg (child up to 18 kg) | 24 kg (child up to 22 kg) | 21.5 kg (child up to 18 kg) | 22 kg (child up to 18 kg) |
| Hip belt fits (adult) measurements: | 26"– 48" (66cm – 122cm) | 34'' - 51.5 '' (86 cm – 131 cm) | 24'' – 54'' (61 cm – 137 cm) | 27''- 49'' (69cm - 130 cm) | N/A |
| Fits adult torso length | 15.5" – 21.5" (39.5cm – 54.5cm) | 15.5'' – 21'' (39.5 cm - 53cm) | 15'' – 20'' (38 cm - 51 cm) | 15''- 22'' (38cm – 56cm) | N/A |
| Material | 210d nylon (main) | 420D Polyester Ball Shadow (main), 420D Polyester Oxford | 210D Polyamide | bluesign® approved 70D Nylon | Main fabric - Face: 100% Polyamide |
| Colors | 2 | 3 | 2 | 2 | 2 |
3. The Selection
1. Osprey Poco Plus
Suitable for:
Hiking
Trekking
Mountaineering
Backpacking
Travelling
Osprey offers two excellent child carrier packs, which mainly differ by size (volume for equipment) and thus price: the Poco (20 liters – read our first-hand review here) and the Osprey Poco Plus (26 liters). The Osprey Poco Plus only weighs 100 grams more than the smaller Poco and otherwise the two child carrier packs have quite similar features and are both available in  blue and black. The Osprey Poco Plus features more pockets, a bigger main compartment and a more advanced Fit-On-the-Fly adjustable hip belt for a wider fit range than the Poco. The Osprey Poco packs are all made of 210-denier Bluesign Diamond nylon and have a maximum load capacity of 22 kg (48.5 lbs).
Pros:
Removable and washable drool pad
Built-in sunshade (UPF50 rating)
TÜV GS Certified
Cons:
Where to buy?
Also available at:
Video
2. Kelty Journey PerfectFit Elite
Suitable for:
Hiking
Trekking
Mountaineering
Backpacking
Travelling
Kelty has previously offered several child carrier packs, but now only offers one: The Kelty Journey PerfectFit Elite– which has all the best features. As the name implies, it features the PerfectFit suspension system in order to fit the backpack quickly and easily to whichever parent carrying the child. A big advantage of the PerfectFit system is that you can adjust the torso length while you have the backpack on, so you don't have to take it on and off while you are figuring out which configuration fits you the best. Both the back panel, shoulder straps and adjustable hip belt are cushioned and covered with breathable mesh fabric for optimal comfort on the go. Similarly, your child will be seated safely and comfortably in the wide seat with a five-point harness and adjustable stirrups to avoid tired dangling little feet. The Kelty Journey PerfectFit Elite comes with an integrated sun shade and is hydration-system compatible.
Pros:
5-point adjustable child's harness
Integrated sunhood
Lots of good pockets, for example a "dirty" pocket which can be easily wiped clean.
Cons:
Where to buy?
Also available at:
Video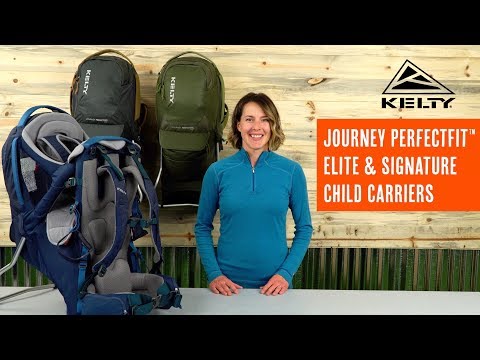 3. Deuter Kid Comfort Child Carrier
Suitable for:
Hiking
Trekking
Mountaineering
Backpacking
Travelling
German Deuter offers four child carrier packs: Deuter Kid Comfort (14l), Deuter Kid Comfort Active (12 l –also comes in a SL version specifically for women) and Deuter Kid Comfort Pro (22 l). For this list we chose the Deuter Kid Comfort (14l) as it has many of the same features of the Pro model but is slightly cheaper. Deuter's back packs are often a little heavier than similar high-quality backpacks because they generally feature spring steel frames rather than aluminium. Steel is heavier than aluminium, but also stronger so it is perfect for carrying heavy loads. Due to the frame and well-padded flexible pivoting VariFlex ECL hip fins and shoulder straps, the Deuter Kid Comfort therefore enable the weight of your child and gear to be transferred efficiently from the shoulders to the hips where the muscles are bigger and better suited to carry heavy loads. Parents of varying heights can easily take turns carrying, since the Vari Slide adjustment system quickly can fit differing torso lengths. The ergonomic child seat and stirrups can also be adjusted to fit the child as it grows in height and width. Besides the bottom compartment, the Deuter Kid Comfort offers two zippered hip belt pockets, two elastic mesh side pockets and an elastic stash pocket in the front. The Deuter child carrier is made of high-performance materials with a PFC-free coating to resist water and dirt..
Pros:
Aircomfort Sensic Vario backsystem for up to 25% less perspiration
Vari Slide adjustment system to fit both moms and dads
Removable and washable chin pad
Hydration system compatible (2l)
Sun roof included and easy to install
Cons:
Rain cover sold separately
Where to buy?
Also available at:
Video
4. Thule Sapling
Suitable for:
Hiking
Trekking
Mountaineering
Backpacking
Travelling
Swedish Thule specializes in safe transportation of what you value the most and thus it is not surprising that the brand offers a high-quality child carrier pack – the Thule Sapling, which was redesigned in 2021. It is now made of 100 % recycled and bluesign-approved 70D nylon and offers a bit more of storage space (now 22 liters) than the old model , but is otherwise quite similar. The Thule Sapling features a breathable fully adjustable backpanel and hipbelt, one large zippered compartment (accessible from both sides and the back), mesh pockets and two roomy zippered hipbelt pockets for essentials. As something new, the ErgoRide child seat and drool pad can be completely removed, so you can easier clean off smoothie spills etc. without having to stand with the entire child carrier in the kitchen sink. The Thule Sapling child carrier pack is hydration compatible (reservoir not included), and comes in grey with black accents, or black with grey accents. How Scandi-cool!
Pros:
Hydration Compatible
Dual access loading of child; from top and side.
Deployable sunshade and kickstand
Seat and drool pad are removable and can be machine-washed
Cons:
Rain cover not included.
No stirrups for child
Where to buy?
Also available at:
Video
5. Vaude Shuttle Base
Suitable for:
Hiking
Trekking
Mountaineering
Backpacking
Travelling
German Vaude is one of the most sustainable brands around, and thus it is no surprise that all of their child carrier backpacks are PFC-free. For this list we choose the Vaude Shuttle Base as it is the lightest of the three, weighing just over 2.5 kilos (5.64 lbs.) while still offering 20 liters of storage space. It features the Tergolight suspension system to ensure that every parent can carry the child safely and comfortable. Like the Deuter child carrier backpack, the Vaude child carrier is TÜV-certified, meaning that your child's safety has the highest priority. Pocket-wise, the Shuttle Base pack is equipped with a zippered front mesh pocket, which is great for wet clothes etc., and a big zippered bottom compartment. The only downside is that you have to purchase a combined sun/rain-cover separately – but even for the Shuttle Premium version of the Vaude child carrier (which comes with an integrated sunshade) you have to purchase a separate rain cover.
Pros:
Tergolight Comfort suspension system
Sustainably produced
TÜV safety standard certified
Cons:
The combined sun/rain-cover has to be purchased separately
Video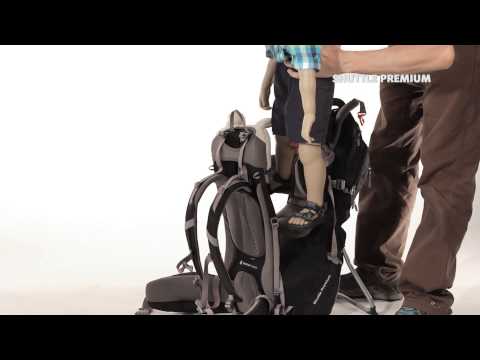 4. Buying a Child Carrier Pack – What is important?
Quality and durability
Never is the quality of a hiking backpack more important than when it is used to carry the most precious you have. You don't want to compromise with quality when a torn strap or seam could endanger the safety of your child, so here we only included top-notch manufacturers with the best reputation and track record. That being said, always remember to respect the limitations that the manufacturer of your child carrier pack has specified – for instance with regards to weight or torso circumference.
Stability and comfort
The most important feature of a child carrier pack is that it allows your child to sit safely and comfortably while the load on your back is at the same as stable and comfortable as possible. Therefore it is important that the reclining space for the child is comfortable and that the backpack has a quite rigid frame which allows the weight of the backpack to be efficiently transferred from the shoulders to the hips (via the hip belt). That way you will be able to perform better on the trails carrying a child as the hips are supported by larger muscle groups than the shoulders. For the comfort of your child it is, on the other hand, important that the child carrier pack has stirrups for the feet as they will otherwise dangle in the air and be prone to suffer from pins and needles. Therefore, we have only chosen backpacks with stirrups for this list of the best child carriers for hiking.
Adjustability
Adjustability is vital in two aspects. First the obvious: Children grow fast! It is thus important that the reclining space in the child carrier pack can be adjusted, so you can use the pack for more than just one season. Secondly, parents might want to take shifts at carrying the child when the whole family is out and thus the child carrier pack itself should be adjustable to different waists and torso lengths. You can get tips to measure your torso length here.
Weight
The weight of the pack itself should be as light as possible – without compromising the quality of the materials – as your child will unquestionably be the heaviest part of your load. Thus we have mainly chosen child carrier packs with lightweight aluminum frames which can carry a combined load (gear + child) of around 22 kg/49 lbs. – which appears to be the maximum for all child carrier packs across the market.
Storage space
Never mind the equipment you want to bring; depending on the length of the hiking trip you will probably need various bulky items for your child, such as diapers, extra clothes, toys, snacks etc. However, a hiking backpack should always be packed sufficiently full to ensure stability (read more in our article How to pack a backpack) – which is even more crucial when you are carrying a child who is more than likely to shift his or hers weight around and thus potentially cause imbalance. Thus you also shouldn't get a backpack which is too big for your actual needs; keep in mind that most child carrier packs listed here come in similar (if not identical) models with more or less storage space.