Last year in the summer, I decided to upgrade my via ferrata gear and one of the things I bought was a brand-new Petzl Sirocco climbing helmet. Before buying the Petzl Sirocco helmet, I was using a hardshell climbing helmet which didn't have any serious flaws but was kind of heavy and thus not particularly comfortable. I sometimes got headaches while wearing it and the ventilation holes were simply not big enough for hot summer days. So, when I started searching for a new climbing helmet, I was especially looking for a lightweight product that provides good ventilation.
Eventually I stumbled upon Petzl Sirocco and I was delighted to see that it weighs merely 170 grams (5.3 oz.) and has large vents. As I already had a via ferrata set from Petzl and I was very satisfied with it (see the Petzl Scorpio review), I purchased the helmet without hesitation. Since then I've worn it on several via ferrata trails and below is what I learned about it.
The Petzl Sirocco Climbing Helmet is suitable for:
Via ferrata
Climbing
Mountaineering
Unpacking
The first thing I noticed when I unpacked the helmet was unquestionably its low weight. The whole package was so light that I was actually wondering if they somehow forgot to put the helmet in before I opened it. The Petzl Sirocco is with the weight of 170 grams (5.3 oz.) indeed a very lightweight helmet. It weighs less than half of my previous climbing helmet, and I wouldn't be surprised if it's the lightest (certified) climbing helmet on the market. I was also impressed over the components. Every part of the helmet is carefully designed and made with precision.
Now, the Petzl Sirocco is a foam climbing helmet which means that it is made of shock-absorbing polypropylene foam. Foam helmets are in general not as robust or strong as hardshell helmets. Their main advantage is low weight and consequently extra comfort. The Petzl Sirocco helmet otherwise doesn't seem fragile. The foam is high-quality and the whole shell is reinforced with a polycarbonate crown (plastic material) on the top for better durability and protection. Nevertheless, I'm much more cautious with it than I was with my old helmet. I certainly wouldn't dare to sit on it or throw a heavy backpack on top of it. When it is not in use, it will be attached to my Osprey Talon backpack.
The helmet also comes with a pouch for carrying and an extra set of liners. I was delighted to see the extra set of liners in the package because that's something that will eventually probably get worn out. Furthermore, since these liners are removable, they can be washed which is indeed a good thing.
Adjustability and Webbing System
When I started adjusting the helmet, I was at first a bit confused. It's not that the adjusting system is complicated, but it certainly isn't as intuitive as it was on my old climbing helmet. My old climbing helmet had a wheel to adjust the circumference – very simple. I just rotated the wheel until the helmet fitted tightly enough. The Petzl Sirocco helmet has a webbing and it took me a couple of minutes to figure out how it works. Basically, you adjust the circumference by pulling or releasing the strap at the back of the helmet. With a bit of practice, it's also not a problem to adjust the circumference on the go. Adjusting is, however, a bit of hassle if you are wearing gloves. The length of the chin strap is adjustable as on any other helmet. The chin strap comes with a magnetic buckle which is a really neat feature. It allows you to quickly and easily buckle the helmet.
All in all, I was satisfied with the webbing system. The helmet always stayed firmly on my head in the right position and readjustments were basically not required. I also haven't encountered any rubbing or chafing.
Ventilation
I was very satisfied with the ventilation. The helmet has vents on the sides and on the back side. They are large and thus they provide great airflow. I wore the helmet at relatively high temperatures and I never felt that I'm sweating significantly because of it. Speaking of perspiration, the liners on the inside of the helmet are very useful because they nicely pull moisture from your skin. They also make the helmet more comfortable by providing some cushioning.
Protection
The Petzl Sirocco helmet is certified by the EN 12492 standard for mountaineering helmets. I have yet to test the protection of the helmet, but I have no doubt that it is good. Petzl is after all a very reputable producer of climbing gear. I also noticed that the helmet is a bit wider than most other climbing helmets and thus it probably provides better side protection. The only possible weakness that came to my mind in terms of protection is that the vents are quite big, which might mean that a very small stone could come through a vent? Nevertheless, chances for that happening are indeed slim.
Sizing
The helmet is available in two different sizes: S/M and M/L. Size S/M fits head circumferences from 48 to 58 centimeters while size M/L fits head circumferences from 53-61 centimeters. My head circumference is 57 centimeters, so according to the size guide I could go for any of the sizes. I bought the helmet in size M/L and it seems that I made the right decision. The helmet in size S/M might be too small for me while the M/L size fits me perfectly.
The helmet is also available in two different colors: black/orange and white/orange. I recommend buying the black version as the white one looks a bit like it is molded from Styrofoam. Nevertheless, that it is a matter of taste.
Verdict
I'm really satisfied with the Petzl Sirocco climbing helmet. It's lightweight and so comfy that I often forget that I'm wearing it. The helmet also fits me really great and I never had to readjust it while climbing. I also really liked the magnetic buckle on the chin strap and the large vents which provide perfect ventilation. The only downside is the webbing system which requires a bit of practice for it to be adjusted on the go. Nevertheless, this is a minor thing. I can't wait to use the helmet again this summer.
If you have any questions about this product, drop me a line in the comments below.
Rating
| | |
| --- | --- |
| Design | |
| Quality | |
| Comfort | |
| Functionality | |
We field tested this product. The rating shows its overall performance.About Rating
Pros:
Comfortable
Lightweight
Fit
Magnetic buckle
Ventilation – large vents
Cons:
Webbing system requires a bit of practice to be adjusted on the go
Where to buy?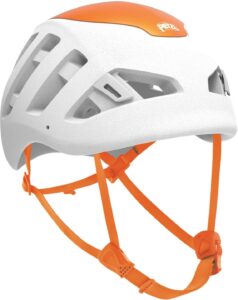 Petzl Sirocco
Buy from REI
Also available at: