In September we were contacted by Silverlight, a startup specializing in hiking socks. They offered us a pair of their socks in return for an unbiased review. I did a quick research about the company and figured out that they raised almost $40.000 on Indiegogo in 2019 to develop odor-resistant hiking socks with durability in mind. The main difference between Silverlight socks and other socks is that Silverlight socks utilize two layers. The inner layer is made of Merino wool which is naturally antimicrobial, while the outer layer is made of nylon fibers where each nylon fiber is wrapped into a silver layer. Now, you might ask yourself why one would use silver in clothing? Well, silver is actually quite often used in sportwear because it has antimicrobial properties and kills odor-causing bacteria.
The two-layer construction increases the durability of the sock and since both layers are antimicrobial the socks should provide good odor resistance. The whole concept of Silverlight socks seemed interesting to me and thus I agreed to test them. For the last two months I've been wearing the Silverlight socks for hiking and everyday use. Below is what I learned about them.
The Silverlight Hiking Socks are suitable for:
Hiking
Mountaineering
Backpacking
Trekking
Everyday use
Material
The Silverlight socks are made of Nylon (45%), Merino wool (44%), silver yarn (7%) and Spandex (4%). So, let's have a look at these materials. Nylon is a synthetic fiber which is often used in socks because it provides good durability and dries fast. The downside of Nylon is that it quickly becomes smelly. However, as the Nylon fibers in the Silverlight socks are wrapped into silver yarns, this problem is eliminated. Merino wool has a lot of great qualities (breathability, moisture-wicking properties, natural odor resistance etc.) but because Merino fibers are not very strong, they are always mixed with synthetic fibers such as nylon in socks and other garments that need to be sturdy. That's also the case with Silverlight socks. Spandex adds stretch to the fabric and enhances the fit. It's a common material in socks and stretchy outdoor apparel.
When I unwrapped, the Silverlight socks I immediately noticed that the fabric feels very sturdy and dense. Nevertheless, that was to be expected because the durability is Silverlight's main selling point in addition to odor resistance. However, I did also notice that the socks are kind of heavy and feel somewhat stiff due to the dense fabric. Therefore, I got a bit worried whether they would provide sufficient breathability for hiking or not, but more about this below. The fabric otherwise felt nice to the touch, both on the inside and on the outside.
Qualities
So, when I test hiking socks I focus on the following characteristics: Durability, breathability, drying time, moisture-wicking properties and odor resistance. These are in my opinion the most important qualities when it comes to socks for hiking and other outdoor activities.
I started wearing Silverlight socks in September right after receiving them, first for everyday use and then on hiking trails. I quickly figured out that they are best for moderate and low temperatures as they are relatively thick and thus also somewhat warm. But since the temperatures were already quite low in the second half of September, it suited my needs. I was very satisfied with the socks while I was wearing them for everyday things, but on hiking trails I did notice that they are not as breathable as other hiking socks I have. The material is very dense which naturally decreases the breathability. Nevertheless, I was surprised how well they pull the moisture from the feet. So despite that my feet were sweating a bit more due to the density and low breathability of the material, the socks always nicely pulled the moisture and transported it to the lining of my boots.
I can also confirm that the socks are very odor resistant. Merino wool and silver yarns indeed do join forces to eliminate odor-causing bacteria efficiently. The socks didn't become smelly even when I was wearing them for multiple activities without washing them in between wears. Nevertheless, I must say that I never have had problems with Merino blend socks becoming smelly in general. This raises the question whether the added silver yarn is even necessary or a certain percentage of Merino wool is simply adequate to prevent odor? For example, my Falke TK2 socks have 60% Merino fibers and they provide very good odor control. Not as good as the Silverlight socks, but close.
I found the drying time the biggest downsides of these socks. Due to the thick fabric they dry much longer than any other hiking socks I have. Nevertheless, that was only a problem when I got caught in rain and the socks got completely soaked. While wearing them in dry weather and the moisture came from my skin (perspiration) this was not a problem, as the socks pulled it efficiently to the outside.
The durability seems excellent. It's true that I've only worn them for a few months, but so far, I haven't noticed any problems in that department and as the fabric is extremely robust, I don't expect any.
Fit, Comfort and Sizing
I was very satisfied with the fit of the socks. While the socks feel somewhat stiff, they do stretch nicely when you apply force. Hence, they wrap nicely around the feet and stay in their position. The socks also provide good cushioning. The fabric in the heel and toe area is a bit thicker for extra comfort. The elastic legs and cuffs are also very comfortable. I haven't encountered any chafing or discomfort so far. I got the socks in size L which corresponds to EU size 42-44 and US size 8.5-10.5. The socks fit me perfectly. My footwear is typically EU size 43 or 44 and thus the socks seem true to size.
Washing and drying
The socks can be machine washed at 30° C without softener, bleach or other additives. They shouldn't be tumble-dried. Since the socks have antimicrobial properties, you don't have to wash them as frequently as synthetic socks. I often use them for two or three activities without washing them in between wears.
Verdict
The Silverlight socks are best for hiking and everyday use in moderate to cold conditions. Due to the silver yarns and Merino wool, they provide great odor control. They are also moisture-wicking and I was positively surprised how well they fit me. The fabric is quite thick and very robust and thus I anticipate that the socks will have a long lifespan. However, the thick fabric has a negative impact on breathability and drying time. Nevertheless, if you are looking for a durable pair of hiking socks with good odor-control the Silverlight socks are indeed something to consider.
If you have any questions about this product, drop me a line in the comments below.
Rating
| | |
| --- | --- |
| Design | |
| Quality | |
| Comfort | |
| Functionality | |
We field tested this product. The rating shows its overall performance.About Rating
Pros:
Durability
Odor control
Moisture wicking
Cons:
Breathability
Drying time
Where to buy?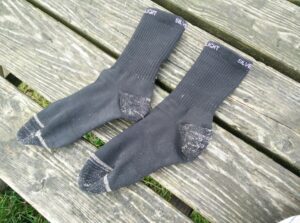 Silverlight Hiking Socks
Buy from Silverlight