In summer I received two t-shirts from Ibex Merino, while Blaz got a pair of hiking boxers in return for unbiased reviews. I previously reviewed the Ibex Merino Tencel t-shirt which was particularly great for hot weather, while the Ibex Journey t-shirt is a more classic Merino-Nylon blend (89%/11%). Nevertheless, it is actually my first base layer of this kind! I have been wearing it on a weekly basis since I received it, for both hiking and everyday life, and here is what I learned.
The Ibex Journey T-shirt for women is suitable for:
Hiking
Mountaineering
Backpacking
Biking
Travelling
Everyday use
Material
The Ibex Journey t-shirt is made of 18.5 micron (superfine) Merino wool (89 %) fibers spun around a nylon core (11 %) for extra durability, and knitted into a thin fabric with a density of 150 g/m2. It is actually my first base layer made out of Merino wool and synthetics! All others have either been 100 % Merino wool or Merino wool mixed with silk (you can read our base layer reviews here). So, is the synthetic share actually felt? Not really, in my opinion. In terms of softness, breathability, moisture-wicking performance and anti-odor qualities I would say that the Journey t-shirt compares very evenly to my Isobaa 150 t-shirt which is made of a 100 % 18.5 micron Merino wool fabric with the same density. The latter has served me well so far in terms of durability; only time will tell if the Ibex Journey t-shirt will serve me even longer.
Performance and Features
The fabric of the Ibex Journey t-shirt is of course the major comfort factor as it is breathable and soft to the touch, and performs well when you start perspiring. It wicks the moisture away from the skin, and the t-shirt can be used multiple times before you have to wash it due to odor. In terms of construction, the Ibex Journey is largely made with regular "bulky" seams as opposed to flatlock seams, although the hems around the neck, sleeves and bottom are made with a flatter overlock seam to reduce chafing. The t-shirt is, nevertheless, not that tight-fitting that flatlock seams would be necessary. The shoulder seams are slightly off-set towards the front to avoid chafing from wearing a heavy backpack. Otherwise the construction is tag-free, so the washing instructions and brand details are printed in the back of the neck rather than on an annoying fabric tag.
Sizing and Fit
Ibex's sizing chart seems to be on point (which is sadly not always the case for outdoor brands), as my measurements not only correspond to size M on paper, but also in reality. The back length for the Ibex Journey t-shirt is 26 inches (66 cm), which I believe is pretty standard, unlike the brand's quite short Tencel Merino t-shirt for women. The Journey t-shirt reaches past my hip bones on the front. In terms of sleeve length, it is worth noticing that they are rather short, almost bordering on a cap sleeve. A cap sleeve extends only a short distance from the shoulder and tapers into nothing under the arm. On the Journey t-shirt for women, the sleeve tapers into just an inch of fabric under the arm. Whether you like it or not, is more a question of style than functionality as the shoulder as such is covered to avoid both sun rays and cold. Personally I prefer a bit longer sleeve, but at least the short sleeve provides added freedom of movement. The men's version of the Journey t-shirt has much longer sleeves.
Washing and Drying
The washing instructions for the Ibex Journey t-shirt are the usual for Merino wool: Machine wash cold (although we recommend 30 ºC rather than 40 ºC), avoid bleach and softeners and leave to air-dry rather than dry-tumbling it. We would just like to add that the best is to wash it with a wool detergent or soap berries as most regular washing detergents contain enzymes which will attack and eat away of the protein all wool fibers are made of. You can learn more in our article How to Wash Outdoor Clothing.
Verdict
The Ibex Journey t-shirt feels just the same as a 100% Merino wool base layer in terms of qualities such as breathability, softness, anti-odor properties, and moisture-wicking performance. It has a very versatile density which means that it can be used for all but the warmest or coldest of days, whether on its own or layered. The slightly short sleeve gives less coverage, but more freedom of movement.
If you have any questions about this product, drop me a line in the comments below.
Rating
| | |
| --- | --- |
| Design | |
| Quality | |
| Comfort | |
| Functionality | |
We field tested this product. The rating shows its overall performance.About Rating
Pros:
Merino-Nylon blend feels and performs like 100 % Merino
Versatile fabric density of 150 g/m2
Tag-less construction and off-set shoulder seams
Sustainably produced
Cons:
Where to buy?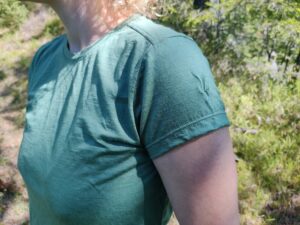 Ibex Merino Journey T-shirt
Buy from Ibex