A fleece jackets is a very useful garment for hiking because it provides light-weight insulation and can be worn as a mid-layer in cold and/or rainy weather conditions or as an outer layer in dry and moderate weather conditions. Towards the end of 2016 my old fleece jacket, made of Polartec Stretch fabric, started to show signs of wear and tear (after using it extensively for more than 5 years) and thus I decided that it was time to buy a new one. I was especially looking for a lightweight jacket that offers good insulation, breathability and efficiently transports the moisture from the base layer to the outside. Additional requirements were easy accessible pockets, thumb holes and good compressibility so that it can be worn under an insulated shell in very cold weather. After thorough research I decided to buy the Mountain Hardwear Monkey Man Grid II fleece jacket. I selected this jacket because it is made of Polartec High Loft fabric which offers a great warmth-to-weight ratio and is highly compressible. For the last couple of months I've been regularly using the Mountain Hardwear Monkey Man Grid II fleece jacket on my hiking trips and here is what I learned.
The product is suitable for:
Hiking
Mountaineering
Trekking
Backpacking
Climbing
Everyday use
Material
As mentioned above the Mountain Hardwear Monkey Man Grid II jacket is made of Polartec High Loft material which is basically a polyester fleece fabric with a fluffy/lofted structure.  Due to the lofted structure, the fabric traps body-warmed air more efficiently and thus the jacket offers great warmth while being very light (it weighs approximately 360 grams). Furthermore, the fabric also compresses very well; while the jacket takes up quite some space (definitely more than my previous fleece jacket) when merely folded, the entrapped air easily gets pushed out when you start squeezing it and the volume is reduced significantly.
The Monkey Man jacket has stretchy panels along its sides for better comfort and freedom of movement. These panels are made of a thinner and less fluffy material (90% polyester, 10% elastane) which offers really great stretch. The inside of the collar is also made of a different material – here is a fairly smooth polyester fleece which efficiently wicks moisture away from the skin. Along the front zipper on the inside, the Polartec High Loft fabric is covered with a layer of mesh fabric which also forms lining for the pockets. The mesh fabric reduces the breathability of the jacket in this area to some extent.
The Polartec High Loft fabric is otherwise very porous (you can literally see the pores in the fabric when you hold it up against the light) and thus efficiently transports moisture from the base layer to the outside and offers great breathability. To assess the breathability I conducted a simple experiment with blowing the air into the fabric – the jacket showed much smaller resistance than my previous fleece jacket (Polartec Stretch) and Woolx Blizzard Top (mid-layer made of Merino wool). The odor-control is relatively poor – after the Grubereck hike the jacket really smelled bad even though I put it drying right after the hike. However, most synthetic garments have poor odor control. Some are treated with antimicrobial agents in order to mitigate this shortcoming but in my experience these agents sooner or later get washed away.
The jacket absorbs very little moisture which is a common characteristic of jackets made of polyester fleece (polyester absorbs only up to 0.4% of its own weight in moisture). Therefore, it also dries very fast; despite that it's much thicker than my Merino wool base layer it always dried faster after washing them together.
Most of the time I wore the jacket together with the WoolPro Agena base layer (Merino wool) and I was very satisfied with the performance. Both garments transported the moisture from the skin to the outside and kept me comfortable in cold weather. However, I have noticed that these two garments create static electricity when used together; when I was putting the fleece jacket off after the hikes there was always a lot of static cling. The same was the case with my former fleece jacket, but it didn't create as much static electricity with Merino wool base layers as the Monkey Man jacket does. When wearing the jacket with synthetic base layers I haven't noticed any static cling.
Note: After researching the matter briefly, I figured out that it's very common that Merino wool fabric and polyester fleece fabric cause static electricity when rubbed against each other as Merino wool tends to become positive in charge when in contact with other materials while polyester becomes negative in charge. The difference in charge causes the static cling – almost like a magnet. Therefore, there is also no static cling when wearing the jacket with a polyester base layer – they both become negative in charge.
Comfort, fit and functionality
Due to the soft and fuzzy fabric, the Mountain Hardwear Monkey Man Grid II jacket is super comfortable to wear. As the jacket is fairly stretchy due to the panels on the sides, it also offers great freedom of movement. I decided to buy the jacket in size M and it fits me relatively snugly (but not too tight) – my chest diameter is 98 cm and I'm 180 cm high. If you are taller or have a fuller chest than me, I do recommend that you buy the jacket in size L. Several times I also wore the jacket under thicker jackets (softshell and insulated shell) and I can confirm that the jacket is not too bulky to be layered with shell garments.
The jacket has three zippered pockets – two hand pockets and one chest pocket. The hand pockets are placed slightly higher for easy access when wearing a backpack (with hip belt) or climbing harness. The pockets' zippers are well constructed and equipped with pull loops so that you can easily open/close pockets with gloves on. As all pockets use mesh lining they can also be used for ventilation. The full-length front zipper is on the inside covered with fabric so that it doesn't cause abrasion. The jacket also features a drawcord adjustable hem and thumb holes to prevent the sleeves from riding up.
Washing and drying
The jacket is machine washable at 40 C. As the fabric absorbs little moisture, it dries very fast.
Testing
So far I've used the jacket on the Grubereck hike, Bodenhaus – Ammererhof hike as well as on several shorter hikes. I really like the jacket as it is very comfortable to wear and offers great performance (moisture-wicking, breathable, quick-drying etc.).  I would recommend the Mountain Hardwear Monkey Man Grid II to every hiker, trekker, mountaineer or climber who wants a top-notch fleece jacket for his adventures. The jacket is slightly more expensive than many other fleece jackets but in my opinion it's worth every penny.
Note: In September 2o20 the Monkey Man jacket was renamed to the Mountain Hardwear Polartec High Loft jacket. However, it is basically the same fleece jacket as both versions are mainly made of the classic Polartec High Loft material with Polartec PowerStretch panels in the sides. On the newest version the stretch panels are less high, the chest pocket is external, and the collar also features an outer layer of Polartec PowerStretch, but these changes are mostly visual. Thus, you can still take this review into regard if you are considering to buy the Mountain Hardwear Polartec High Loft jacket. The affiliate links below are indeed for the newest version.
If you have any questions about this product please drop me a line in the comments below. 
Rating
| | |
| --- | --- |
| Design | |
| Quality | |
| Comfort | |
| Functionality | |
I field tested this product. The rating shows its overall performance.About Rating
Pros:
Warmth-to-weight ratio
Breathability
Moisture-wicking
Pockets
Super soft fabric
Feel against the skin
Freedom of movement (stretchy panels)
Thumb holes
Cons:
Static cling (only when wearing it together with a Merino base layer)
Where to buy?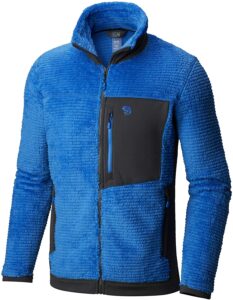 Mountain Hardwear Polartec High Loft Jacket
Buy from REI
Also available at:
Note: The link points to an updated version of the product.
Polartec High Loft Technology Video