Last year, we got in touch with the American brand Kammok which is known for producing top-notch sleeping gear for backpacking. They were so nice to let us test their Mantis Hammock Tent and Firebelly quilt in return for unbiased reviews. Before getting the Kammok Firebely quilt, I had been using a traditional sleeping bag and thus I was really excited to switch to a quilt and see how this concept works for me. Quilts are in general lighter and more compressible than sleeping bags and, if you are an active sleeper, also more comfortable because they allow you to freely move around. I'm not a particularly active sleeper, but sometimes my old sleeping bag did feel somewhat restrictive.
The Kammok Firebelly is a 3-season quilt and suitable for temperatures down to 1° C (30° F), although thermic comfort depends on each individual. In addition to the top-quality down insulation it also has some neat features such as attachment points for a sleeping pad, a footbox and drawcords which allow you to tighten the quilt in the legs and head area. With the weight of 808 grams (28 oz.) it is much lighter than any other sleeping bag I had.  I switched to the Kammok Firebelly quilt last fall and since then I used it on several overnight trips. Below is what I learned about it.
The Kammok Firebelly Quilt is suitable for:
Backpacking
Camping
Hiking
Mountaineering
Materials
The Kammok Firebelly quilt utilizes responsibly sourced 750-fill power down for insulation. The down comes from the American company Downtek which produces hydrophobic (DWR treated) down that retains good warmth even if it gets exposed to water and moisture. When I got the quilt I of course hand-washed it before first use, and I must say that I was impressed over the Downtek down. It was literally impossible to make the quilt wet because it repelled water so efficiently. Another good thing about the Downtek down is that their DWR treatment is PFC-free bluesign certified and thus not harmful for you or the environment.
The outer layer of the quilt is made of 15-denier nylon ripstop. The material is comfortable to the touch and I never experienced any discomfort, even when I was sleeping with my bare legs under the quilt. The durability is also good. So far, I haven't noticed any tears or other problems on the quilt in spite of not being particularly cautious with it on trails. The down stayed evenly distributed within the baffles which is important as otherwise you have cold spots. Other components such as drawcords and snap fasteners also seem high-quality.
Features and Usage
The Kammok Firebelly quilt has drawcords at the top and at the bottom which allow you to tighten the quilt there and thus create a footbox and/or a hood. It also has snap fasteners along the long sides so you can connect the sides and create a minimalistic sleeping bag. In addition to the quilt the package also includes a stuff sack, straps for attaching the quilt to the sleeping pad, an underquilt conversion kit for attaching the quilt under a hammock and a fabric footbox with a drawcord.
The quilt can be used for sleeping on a sleeping pad or as an underquilt for a hammock. If you are using the quilt with a sleeping pad you can attach it to the sleeping pad with the included straps and snap fasteners. Most quilts are equipped with such an attachment system, but I didn't particularly like it. I found the quilt most comfortable when it wasn't attached to the sleeping pad, but with the bottom drawcords tightened for a footbox. In cold conditions I tightened the quilt at the top as well, so it came tightly around my neck and used the fabric footbox which came with the quilt. The fabric footbox provides a bit of extra insulation and keeps the quilt nicely wrapped around your lower legs. I must say that I was surprised how well this system works and I haven't missed my old sleeping bag at all.
I also used the Kammok quilt as a hammock underquilt several times. If you have ever slept in a hammock at lower temperatures, you know that it can get pretty cold in there, no matter how good a sleeping bag you have. When lying in a hammock, your weight compresses the insulation of the sleeping bag under you and thus the sleeping bag loses warmth there. So, attaching a quilt under the hammock is the best solution to keep warm while sleeping in a hammock. The Firebelly was great for this and it always kept me warm. Getting the quilt attached in the right position under the hammock is a bit of hassle but with a bit of practice it's not a problem.
Sleeping Comfort
Before I started using the Kammok Firebelly quilt I was a bit skeptical about quilts. However, after spending a couple of nights with the Firebelly quilt I must say that I'm impressed over the concept. I do think that quilts provide better sleeping comfort than sleeping bags because they allow you to move around freely. Furthermore, they are also more versatile. For example, in warm weather you can just cover your torso and leave your legs uncovered, while in cold conditions you can create a footbox and a hood for maximum insulation. So, I do think that a quilt is a better option than a sleeping bag for 3-season backpacking. For winter I will, however, stick with my sleeping bag because it is better at trapping the body-heated air.
Washing and Drying
The Kammok Firebelly quilt should be hand-washed cold and of course you shouldn't put it in the tumble drier. I also recommend using mild detergents because strong detergents can have a negative impact on DWR treatments. As the quilt utilizes hydrophobic down, it dries very fast.
Verdict
The Kammok Firebelly is my first backpacking quilt and I'm very satisfied with it. It's lightweight, warm and packs really small. Therefore, it's perfect for lightweight backpacking and similar outdoor activities. The quilt has many neat features such as drawcords for creating a footbox and/or a hood, snap fasteners for attaching the quilt to a sleeping pad and it can be used as an underquilt for a hammock. The down insulation is high-quality and very hydrophobic. Therefore, you have nothing to worry about, no matter the conditions and humidity. Switching from a sleeping bag to the Kammok Firebelly quilt was a delight and I believe I'll use it for many years.
If you have any questions about this product, drop me a line in the comments below.
Rating
| | |
| --- | --- |
| Design | |
| Quality | |
| Comfort | |
| Functionality | |
We field tested this product. The rating shows its overall performance.About Rating
Pros:
Weight
Packs small
Good DWR treatment
Warm
Versatility
Cons:
Where to buy?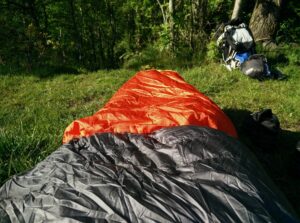 Kammok Firebelly Trail Quilt
Buy from Kammok
Also available at: