About Blegos Trail
Blegos is a 1562 meters high mountain which lies south of the Julian Alps in Slovenia. It's a very popular destination for hikers because the trail is not technically difficult and there are no less than two mountain huts offering warm drinks along the way. The last mountain hut is only 800 meters away from the peak and from the top you get a great view of the higher peaks in the Julian Alps.
We decided to climb Blegos because there was a lot of fresh snow in Slovenia in February and thus the avalanche danger was significant for higher summits. Blegos is not problematic when it comes to avalanches because only the last stretch of the trail (a couple hundred of meters) is above the tree line. Furthermore, we also didn't have to bring heavy winter hiking gear such as ice axes and crampons for climbing this mountain as it rarely gets icy below 2000 meters in this region. Therefore, Blegos was the obvious choice for our winter adventure.
The Blegos hike is suitable for everybody, even for families with kids, but keep in mind that it takes more time to reach the peak in snowy conditions. Because the trail is very popular, it's unlikely that you will have to trudge through pristine deep snow, but the slippery surface will put extra strain on your muscles nevertheless.
Blegos Trail Details
Date of the Hike Date when we did this hike ?
Weather On the day when we did this hike ?
Temperature On the day when we did this hike ?
Wind On the day when we did this hike ?
These details are gathered from a GPS device which we used on the hike. Please note that you might need more or less time than us to finish this hike.
About Trail Details
Blegos GPS Route and Trail Description
*Click on the chart to see the location on the map
GPX route helps you with the navigation on a hike. It can be used with a smartphone, handheld GPS device or a GPS watch.About GPX Route
Reaching the starting point
The Blegos trail starts in a small village called Leskovica, near the towns of Kranj and Skofja Loka. To reach Leskovica you should drive along the Slovenian E61 highway towards Kranj until you reach the Kranj-Zahod exit. Then take the Kranj-Zahod exit and drive in the direction of Skofja Loka. After driving for approximately 12 kilometers you will reach Skofja Loka. In Skofja Loka, follow the directions for the villages Gorenja Vas and Ziri and after driving for 20 kilometers on road 210 you will reach the village of Hotavlje. Here turn right towards Kopacnica and Leskovica and continue for 5 kilometers. You will then arrive to a crossroad where you should turn right towards Leskovica. After driving for 3 kilometers more you will reach Leskovica.
The parking lot is next to the church which is clearly seen when you reach the village. You can park your car there free of charge. The GPX route attached above starts exactly at this parking lot. Unfortunately, the village of Leskovica is due to its remoteness not accessible by public transport. Nevertheless, there is an asphalt road all the way up to the parking lot so you don't have to drive on dirt roads.
Trail
The Blegos trail is well-marked with painted red and white circles on trees and rocks, and there are also numerous direction signs along the trail. Keep in mind that these marks might be covered with snow in winter, but since the trail is well-visited all year round you can just follow the footsteps of other hikers and you will reach the top. Therefore, you should not have any problems with navigation on this hike.
From the parking lot, start hiking on a narrow road towards north-east and after hiking for 1.2 kilometers you will reach a crossroad. There is a direction sign at the crossroad and you should go straight ahead towards Blegos. Here the path becomes narrower and ascents rapidly through the dense forest. After hiking for 2.5 kilometers altogether you will reach the first mountain hut where they sell warm and cold drinks. Continue past the mountain hut and the path will soon change its direction towards north-west. After approximately 500 meters you will reach a wide dirt track – the narrow path ends here. Start hiking on the wide dirt track towards north-east and after hiking for 3.7 kilometers altogether you will reach the second mountain hut.
This mountain hut is bigger than the first and also offers warm meals and accommodation. In summer it is opened every day while in other seasons it's typically only opened on Saturdays and Sundays. A beer will cost you 3 € ($ 3.7) and you can get a decent warm meal for 10 € ($ 12).
Go past the mountain hut and continue towards the top (direction south-east). After hiking on a quite steep terrain for 800 meters (an elevation gain of approximately 150 meters) you will reach the top. There you will be rewarded with a great view on numerous peak in the Julian Alps (direction north).
Getting back to the starting point
Because there was a lot of snow (snow depth of 70 centimeters and more) off the beaten path, which we had no wish to trudge through, we used the same path for the way down as for the way up. On the way down we also stopped in the mountain hut closest to the top – which was full of hikers.
Equipment
Because I knew that this hike is relatively short but slightly demanding due to winter conditions I didn't take too many things with me. In my Osprey Talon 22 daypack I was carrying my Carinthia HIG 3.0 jacket, food, water and some accessories. During the hike, I was wearing the WoolPro Agena Merino base layer, Mountain Hardwear Monkey Man fleece jacket, softshell pants, Salewa Mountain Trainer Mid hiking boots, Woolx Merino hat, Gore-Tex gloves and gaiters. It was quite cold at the top, and thus I had to put on my Carinthia jacket to stay warm.
Equipment under scrutiny
Mountain Hardwear Monkey Man Fleece Jacket
I've been using the Mountain Hardwear Monkey Man fleece jacket for over a year now and I'm very satisfied with it. Despite being very light it provides great warmth. Furthermore, ti also dries very fast and offers good freedom of movement. During the hike the temperatures were around 3 C and the jacket provided sufficient insulation (in combination with the Merino base layer) for hiking in such conditions. The only bad thing about the jacket is that it gets smelly very fast. You can read the full review of the Mountain Hardwear Monkey Man fleece jacket here.
Note: In 2020 the Monkey Man jacket was renamed to the Mountain Hardwear Polartec High Loft jacket, but except for a few visual changes (like an exterior chest pocket), it is basically the same jacket. The links lead to the newest version.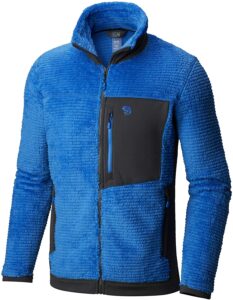 Mountain Hardwear Polartec High Loft Jacket
Buy from REI
Also available at:
Conclusion and photo gallery
The Blegos Trail is very easy and can be done by everybody. However, keep in mind that in winter you will need more time to reach the top than in other seasons because it's very likely that the trail will be covered with snow.  As the trail is very popular and well-marked you should not have any problems with the navigation. Don't forget gaiters in winter and enough water in summer.
If you have any questions about this hike, please drop us a line in the comments below.