About the Cinque Terre Hiking Trails
We spent the last week of December 2022 at the Tyrrhenian coast of Italy, and decided to explore the incredible picturesque villages and landscapes which make up the Cinque Terre National Park, a UNESCO World Heritage site. The five villages are Riomaggiore, Manarola, Corniglia, Vernazza and Monterossa al Mare, which are all connected to one another by various hiking trails and a train line, which runs from La Spezia south of Cinque Terre to Levanto north of the area, with stops in all the villages in between. In the season (usually end of March to end of October), it is recommended to buy the Cinque Terre Train card (18.20 euros/19.7 $ for an adult at the time posting) which not only gives you unlimited train travel on the La Spezia – Cinque Terre – Levanto line, but also access to all the hiking trails.
There is otherwise a fee to pay for using the following hiking trails in the season; Riomaggiore – Manarola (1.5 km, easy, the "Lovers' Walk"), Corniglia – Vernazza (3.5 km, moderate), and Vernazza – Monterosso (3.6 km, moderate). It is a good idea to check with the official website to see beforehand which trails are open and which are closed as the steep hillsides entail frequent landslides, causing path closures; the Lovers' Walk is for example closed till summer 2024. However, keep in mind that as always when it comes to Italy you might find that things are different in reality than what is stated online. What should be open, can be closed and vice versa.
In the off-season when we visited, all hiking trails are for free, and it is also cheaper just to buy individual train tickets between the villages rather than investing in the Cinque Terre Train Pass. It is a bit more hassle to buy and validate the individual tickets between the villages but you can save some money (we used around 10 euros per adult starting and finishing in La Spezia). Each station has a few ticket automats which are multi-lingual. Unlike busses in Italy, trains will generally arrive and depart on time, so be sure to have enough time to get your tickets in order. Remember to validate the tickets in the small green and white machines close to the ticket automats.
Cinque Terre Hiking Trail Details
Date of the Hike Date when we did this hike ?
Weather On the day when we did this hike ?
Temperature On the day when we did this hike ?
Wind On the day when we did this hike ?
These details are gathered from a GPS device which we used on the hike. Please note that you might need more or less time than us to finish this hike.
About Trail Details
Cinque Terre Hiking Trail GPS Route and Trail Description
*Straight lines show stretches we travelled by train 
*Click on the chart to see the location on the map
GPX route helps you with the navigation on a hike. It can be used with a smartphone, handheld GPS device or a GPS watch.About GPX Route
Getting to Cinque Terre
It is highly recommended NOT to go by car to any of the villages as cars are forbidden/restricted, so you anyway have to park far away from the actual sights. Indeed, there is no reason to go by car, as the national train company Trenitalia offers frequent affordable departures to the village stations, which are connected to each other with only 3-4 minutes of travel time in between, as well as La Spezia in the south and Levanto in the north. And who wants to (aesthetically) pollute a UNESCO World Heritage site? Besides going by train or hiking, you also have the option to move between the villages by ferry during the season. From the end of March to November 1st there is a small ferry going from Portovenere (approximately 10 km south of Riomaggiore) up to Monterosso, which stops in all but one of the five villages.
That one excluded village is Corniglia because it doesn't have sea access. A few times a day, the ferry sets out even further south, from Lerici or La Spezia, and once a day it also arrives/departs from Levanto north of Monterosso. For ticket prices and more information about going with the Cinque Terre ferry, click here. There are of course also various private companies arranging tours, but you might find them more expensive and less regular.
Riomaggiore
We started out in Riomaggiore after arriving from La Spezia by train. From the train station, we followed a beautiful, paved path along the cliffside towards south with the sea directly below us. After a few hundred meters of ascending and descending on steep staircases along the sea, you enter the village itself and can go towards the incredibly picturesque little bay of Riomaggiore, with colorful houses stacked on top of one another on the nearly vertical cliffside down towards the sea. Riomaggiore is the largest of the five villages, and for sure there is more to see if you venture a bit further away from the main path close to the sea, such as the Medieval fortress Castello di Riomaggiore, the Church of San Giovanni Battista (St. John the Baptist) or the Sanctuary of Our Lady of Montenero, which is only accessible by trail a kilometer or so south of Riomaggiore.
We were, however, eager to cover as much ground as possible and thus returned back to the train station, following pretty much the same route along the sea. We then took the train onwards to Manarola, as the Lovers' Walk trail was closed due to a part of the path having collapsed into the sea. We could also have taken the steeper and much more demanding Via Beccara trail to Manarola, but with me being six months pregnant and Blaz carrying our heavy toddler we were not ready to exhaust ourselves completely yet.
Manarola
When we arrived in Manarola, we started walking northwest from the train station through a 100 meters long tunnel, which leads directly to the main street Via Renato Birolli, that meanders through the lower part of the village. After coming down to the sea by the end of Via Renato Birolli, we then followed the idyllic paved footpath going towards north along the sea around a small peninsula, but it stops after about 300 meters on the other side of the peninsula. There was previously a path continuing forward towards Corniglia more or less along the sea, but it is now closed off and it was obvious to see why as several stretches had collapsed into the sea. This trail is also scheduled to reopen in summer 2024.
There is an alternative route from Manarola to Corniglia, going over the village Volastra and especially the first part of the more than five kilometers long trail is demanding, although this can be mitigated by taking a shuttle bus from Manarola to Volastra (a 10 minute ride) and starting the hike behind the the small church of Madonna della Salute. The bus stop in Manarola is called Manarola Mulino and is located 100 meters up north the road called Via Antonio Discovolo, which you have on your right when you exit the tunnel from the Manarola train station. In season there is normally a bus every hour, but out of season there are much fewer departures. Don't trust that Google Maps states the correct departures; instead check out the bus company ATC's website.
We didn't have a convenient bus connection to Volastra from Manarola at the time of our visit in Cinque Terre, so instead, we walked back to the tip of the small peninsula, and up a few flights of stairs we found a buzzing modern playground with a gorgeous view on the sea. Our 3-year old daughter magically awoke here, and we thus spent a good amount of time here. A few flights of stairs higher up, you will find a public toilet (one of the harder things to find in Cinque Terre) at the cost of 1 euro per person. After finishing at the playground we lured our daughter away with the promise of a gelato back in the centre of Manarola, and we also enjoyed warm focaccia from a bakery.
Prices were high, even out of season, and many restaurants and cafes were completely shut down for the holidays/season although there were still plenty of tourists sprawling around the Cinque Terre area. Manorola is one of the smaller villages of Cinque Terre, and we felt like we had seen most of what was to see there. We could have climbed the steep road Via Antonio Discovolo up to the Church of Saint Lawrence, but now we were eager to do some actual hiking and thus took the train to Corniglia to do the actual hike to Vernazza.
Hiking from Corniglia to Vernazza
Unlike the other Cinque Terre villages, Corniglia does not have sea access as it is placed about 100 meters above sea level, and also well above the Corniglia train station. To reach Corniglia from its station, we first had to follow a paved pedestrian path called Via Lardarina towards northwest which runs parallel to the road Via alla Stazione to begin with. After 400 meters you come to a meandering wide staircase called Scalinata Lardarina, which leads up the hillside to the top where Corniglia is placed. The staircase has almost 400 steps so we used our ascent up to admire the view on the sea and southwards towards Manarola. Nevertheless, the sun was setting as we climbed the stairs so we wanted to get a move on as not to get caught by the darkness while on the trail (a naïve hope to have, it turned out).
Therefore we more or less just passed through Corniglia, mostly on the Via Fieschi street, following the signs towards Vernazza, and only made a few stops to photograph the view. This path did, however, take us right past the village's Church of St. Peter, so that was one place off the sightseeing list. If you want to explore Corniglia more than we did, you should follow Via Fieschi, which bends at the church and runs south down towards the center of the village. We, however, continued straight ahead on the narrow pedestrian towards west, and soon we again had a view of the sea and the hillside terraces of Corniglia with vineyards. The buildings became more sparse and the paved path curves more and more towards north. The path intersects with the Via alla Stazione, but continues just diagonally across the road.
At this point we still met small groups of hikers arriving to Corniglia from Vernazza, but in spite of the ceasing sunlight we still continued towards Vernazza on the path which became increasingly rural. From crossing the Via alla Stazione, we hiked for three kilometers till reaching Vernazza. The trail changes between gravel, rock/dirt and being paved, and mostly features a fence on one or both sides on exposed stretches. The danger of land slides and other natural hazards has made the authorities put up signs with the Italian emergency number 112, and the exact number of the location in question so a rescue team can easily find you, if needed be.
We luckily didn't need it, but both at the time and in hindsight it was clear that we were not very wise to walk on an uneven meandering path on steep hillsides for 1.5 hour of increasing darkness. Even our toddler picked up on the situation, and once in a while said: "I want to go back to the train" but otherwise kept calm in the child carrier, where she watched Peppa Pig on a phone. The first half of the trail is more or less uphill till you reach the highest point of the hike at 215 meters above sea level. Around here you have a brief meeting with civilization, as you come past a small cluster of houses with a bit of street lights which make up the tiny hamlet called Prevo. In season, there is a bar and a tourist lodge but as it was getting close to total darkness we didn't see much, except light in a few windows.
Shortly after the path starts descending, first slowly and then more steeply. At this point we had to use our other phone as a torch to make out the uneven path beneath our feet to avoid tripping and falling over. Blaz was indeed kicking himself for not bringing a headlamp as he is usually packed and prepared for EVERYTHING. The vegetation was largely low forest/shrubbery and occasionally vineyards or olive orchards, so most of the time we could see the sea, which looked magical, even past dusk.
The lights of Vernazza first came into sight about a few hundred meters before encountering the first buildings of civilization on the hillside above the city. Street lights only appeared just as we were descending the last steep flights of stairs down to Vernazza itself. Unfortunately, we didn't have time to explore the city as we merely had time for a quick one-course meal in the otherwise very nice restaurant 5 Terre Bistrot before taking the train back to our holiday home and getting the little one to bed at a somewhat decent hour.
Equipment
The weather was wonderful, so most of the time I just wore my Isobaa Merino 180 base layer over a Merino bra, pregnancy leggings and a pair of lightweight hiking boots. In my CamelBak daypack I carried my CimAlp fleece and softshell jacket in case of cold or light rain as well as water and refreshments, while Blaz carried our daughter in the Osprey Poco child carrier.
Equipment under scrutiny
Tifosi Swoon Leopard Sunglasses
For a sunny day like this, sunglasses were basically a necessity! I was very happy to wear the Tifosi Swoon Leopard sunglasses as the polarized lens reduced the glare from the ever-present sea at Cinque Terre. Furthermore the Tifosi Swoon sunglasses wrap properly around the curve of my face with its base curve of 7 in order to protect the eyes from sun light coming in at any angle. You can read the full review of the Tifosi Swoon Leopard sunglasses here.
Where to buy?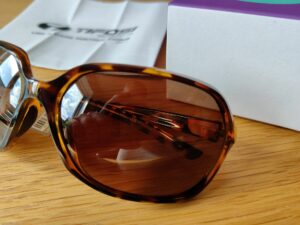 Tifosi Swoon Sunglasses
Buy from Tifosi Optics
Conclusion and photo gallery
Cinque Terre is nothing less than an amazing place to visit, whether you want to hike or just explore the area as a tourist. Even when we were visiting just before New Year, there was still quite some tourists, but outside of the train stations it was possible to enjoy the atmosphere and admire the views in peace. I would thus recommend anyone wanting to visit Cinque Terre to do it outside the height of the tourist season of July-August, where I imagine that it will be positively swarming with tourists. It was a very pleasant temperature when we visited in December, so we spent most of the day in base layers, not needing our jackets before the evening. The trains are cheap and convenient, so do leave your car behind if you have one at your disposal, regardless of the time of your visit.
As for hiking, it can be done in a pair of good hiking shoes, but you might like the extra support hiking boots provide for the steep ascents/descents. All the villages have public water fountains with drinking water where you can refill your water bottles or hydration bottles; as long as it doesn't say "non-potable" the water is safe to drink and tastes good. Severe drought in the summer might affect this, but the authorities will put up warning signs in that case. We brought a bit of sandwiches and snacks with us, but you can also restock in the Coop 5 Terre mini-markets in Riomaggiore, Manarola and Vernazza or Conad in Monterosso, in addition to the small local shops which may be open too. Just keep in mind that both restaurants and shops might be closed during the riposo break in the afternoon, which can last several hours depending on the season.
You can find public toilets in most train stations; other than that you will generally have to resort to those in establishments, where it will be expected that you buy something to drink or eat. Be aware that very small establishments like gelato vendors, bakeries etc. might not have a customer toilet. The popular trails will be well-visited during the season, and the steep hillsides are unsafe for off-trail privacy, so try to take care of your needs in the villages. We absolutely loved Cinque Terre and would love to come again to have more (day!)time to explore and hike around in the area. Maybe we will see you there?
If you have any questions about this hike, please drop us a line in the comments below.