About the Råbjerg Mile Hiking Trail
In the beginning of June we went on this summer's first proper camping trip, and stayed at the camping site called First Camp Råbjerg Mile near to the tip of Jutland and Skagen. As the weather was beautiful, we decided to do a hike to the nearby migrating coastal dune called Råbjerg Mile (Mile = dune). It is the largest moving dune in Northern Europe, with an area of about 2 km2 and a height up to 40 meters above sea level.
Råbjerg Mile Hiking Trail Details
Date of the Hike Date when we did this hike ?
Weather On the day when we did this hike ?
Temperature On the day when we did this hike ?
Wind On the day when we did this hike ?
These details are gathered from a GPS device which we used on the hike. Please note that you might need more or less time than us to finish this hike.
About Trail Details
Råbjerg Mile Hiking Trail GPS Route and Trail Description
*Click on the chart to see the location on the map
GPX route helps you with the navigation on a hike. It can be used with a smartphone, handheld GPS device or a GPS watch.About GPX Route
Reaching the starting point
The starting point is just south of the camping site First Camp Råbjerg Mile where we were staying. If you are coming by car, you could park on the parking lot next to the reception building, although it might be full if you arrive between late June and early August. The camp site is located a few hundred meters down Kandestedvej, which is a sideroad to main road 40 (Ålbækvej) which runs from Frederikshavn to Skagen on the tip of Jutland. If you want to go by public transport, the summer bus (from late June to early August) line 99 runs between Skagen and Hjørring, and stops just outside the camp site as well as next to Råbjerg Mile if you only want to hike one way. Ask the driver to be dropped off the right place.
You can also go by train to Hulsig station all year around, and then walk south on the street Skrædderstien, which forks into two after about 100 meters. Here you take the left one called Hesselholtvej and then follow it as it narrows into a walking path, which leads through a tunnel underneath main road 40. Shortly after you exit the tunnel, you come to a T-crossing and you should go left, towards south. Follow this path for a few hundred meters, and you will come to our starting point. The walk from the train station to there will prolong the hike approximately one kilometer each way. To plan your travel by public transport, go to rejseplanen.dk.
Trail
The trail starts on a relatively wide sandy path just south of the campsite and runs towards southwest next to a small pine forest. After a few hundred meters, the path leads to a crossroad, where you should continue straight ahead. Shortly after, the path becomes wider and curves towards west, then southwest for a few hundred meters until it forks into two. You should choose the one on the right, which runs west and stick to it for almost a kilometer. Along the way, you will see several paths of various sizes crisscrossing it but as long as you keep heading west, you should be on the right way. At some stretches it is a wide dirt road, at others a rather narrow path, but mostly it is a wide, very sandy path due to the many horse riders who use it. Just keep heading west.
After you have walked almost 2.5 kilometers from the starting point, the well-trodden sandy path takes an abrupt turn almost directly south. Here, you should continue west on a narrow grassy path going into a low pine forest. A few hundred meters after, you will arrive at the foot of the dune Råbjerg mile. It was a bit too steep for us, so we had to make our way past some trees to find a less steep route over the dune. After exploring the dune for a while, we went down to the picnic area just north of dune and sat down to eat our packed lunch a bit shielded from the wind. Here you will also find informational boards about the development and history of the dune, as well as public toilets with running water, where you can refill your water bottle or hydration bladder. The parking place for visitors of the dune is also located here.
Getting back to the starting point
After we finished our break, we walked north on the paved road for about 500 meters until we reached Kandestedvej, and then walked back towards east along the side of the paved road. We could also have taken the same way back, but Blaz was a bit too tired to walk on the sandy path carrying our daughter in the Osprey Poco child carrier, so we took this less scenic route instead. It's up to you what you do; a third option is to go to the southern end of the dune, and then follow the wide dirt road called Råbjerg Mile Vej towards east. Shortly after you will walk past the primitive shelter ground called Bunken Klitplantage, where you are welcome to spend the night for free. See more in this link (in Danish).
Any paths to your left (and thus towards north) along Råbjerg Mile Vej will sooner or later lead you back to the sandy path by which you arrived to the dune, but you can also continue walking on the wide dirt road until you meet signs pointing towards "Tudsehav" (meaning "the sea of toads"). "Tudsehavet" is a small forest lake with picnic tables, and after enjoying a break here you can proceed on a path towards north, and get back on the sandy path, which leads you back to the starting point.
Equipment
For this hike in warm weather, I wore the Isobaa Merino 150 t-shirt over the Boob Design Merino bra and the Cimalp hiking pants. On my back I carried refreshments, sun cream and extra clothing in the Camelbak Rim Runner 22 daypack. As it was sunny weather, I wore the Tifosi Swoon sunglasses most of the time.
Equipment under scrutiny
Tifosi Swoon Polarized Sunglasses
The polarized Swoon sunglasses from Tifosi Optics were particularly useful for this hike in very sunny weather, where there was a lot of glare from the dune itself as well as from bodies of water nearby. The Swoon sunglasses wrap nicely around my face to prevent the sun from entering at any angle, and the vents also worked well to prevent fogging on the inside of the lenses. You can read the full review of the Tifosi Swoon polarized sunglasses here.
Where to buy?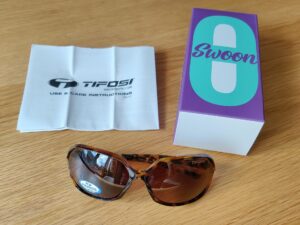 Tifosi Swoon Polarized Sunglasses
Buy from Tifosi Optics
Conclusion and photo gallery
The Råbjerg mile hike is a picturesque trail, where you can explore the largest moving sand dune in northern Europe. It is suitable for everyone, and kids of all ages(!) will love to kick off their shoes and explore the dune barefoot on the silky sand. You don't need any special equipment although you might benefit from a pair of light trekking shoes and long hiking pants to protect your legs against thorny vegetation. As for the trail back, we do recommend that you take a different route than ours since walking next to a paved road is kind of boring.
We did opt for this route, nevertheless, because the soft sandy forest paths were quite exhausting to walk on, especially having a heavy load on the back, as Blaz did (in the form of our daughter in the Osprey Poco child carrier). It is, however, not advisable to take your hiking shoes off except on the dune itself because the moor is known for housing the only poisonous (but seldom deadly) snake in Denmark – the European viper (Vipera Berus).
If you have any questions about this hike, please drop us a line in the comments below.