After having been sold out for a long time, we were finally able to receive the Sea to Summit Spark 28F sleeping bag for testing in the very beginning of summer in return for an unbiased review. With EN13537 temperature ratings of 4ºC (38 ºF) as the comfort temperature, -2 ºC (28ºF) as the lower limit and -18ºC (0ºF) as the extreme temperature, the sleeping bag has been great for backpacking and camping in Scandinavia where quite some "summer" nights only had one-digit temperatures (in Celsius). The Sea to Summit Spark 28F is a 3-season sleeping bag which according to the specifications provides enough warmth even for colder nights in the fall and spring.
In the last two months I thoroughly tested the sleeping bag on our backpacking and camping adventures, investigating its functionality, comfort, warmth and durability. Below is what I learned about it.
Materials and Construction
The Sea to Summit Spark 28 F sleeping bag is part of the brand's award-winning Spark Ultralight series which consist of four sleeping bags with different temperature ratings (40ºF, 28ºF, 18ºF, 5ºF) and slightly different design features but made out of the same materials. The shell material is the 10 Denier UL Nylon, which is so thin and sheer that you can actually see the down clusters through it! Nevertheless, it seems incredible durable and resistant to sharp objects tugging at it, and the same goes for the even thinner 7D liner material. According to Sea to Summit the materials are down-proof, and while I haven't seen any down poking through intact fabric, I have noticed one or two down clusters making their way out through the tiny needle hole in a seam. In any case, the material is smooth and soft to the touch and not overly crinkly or plastic-y as the shell material of some other sleeping bags.
The insulation material is 850+ Loft Ultra-Dry Down, which as the name implies is hydrophobic via a non-PFC treatment of the down. The Ultra-Dry treatment does not inhibit the breathability, loft or lifespan of the down, but makes it very water-resistant to mitigate the negative effects moisture has on down (loss of loft and warmth etc.). The high fill power tells us that one ounce of the down will re-expand to over 850 cubic inches after compression, which is key to the warmth, light weight and packability of the Sea to Summit Spark 28 F sleeping bag. To keep the weight down, the sleeping bag is mostly made with sewn-through rectangular pockets for the down insulation, but features a baffle box construction on the front side of the torso to retain heat better. You can easily identify the baffle box construction on the contoured mummy sleeping bag as it is made in vertical lines with less distinct seams than the sewn-through horizontal pockets across the body.
Sleeping Comfort
The amazingly warm and fluffy down insulation paired with the smooth shell materials make the Sea to Summit Spark 28 F sleeping bag a dream to sleep in! When I first crept into the sleeping bag on a chilly Scandinavian summer evening (8ºC), it felt like lowering myself into a portion of perfectly temperate Crème brûlée. I might even have let out a sigh of contentment. I thought that I might miss a full-length side zipper, but really the 1/3-length zipper gets the job done; you can get in and out without hassle and use it for extra ventilation if needed.
I, however, also got to use it for letting our toddler semi-co-sleep with me as she insisted on having her lower body inside my sleeping bag, while being covered with a blanket on top. Fortunately, the Sea to Summit Spark 28 F was sized generously enough for one and half woman to sleep together! Had I slept alone, I would probably have used the cozy hood which is adjustable with a drawcord toggle.
Weight and Packed Size
Sleeping comfort aside, how does the Sea to Summit sleeping bag perform? Pretty amazing! It comes with both a spacious storage bag and an XXS Ultra-Sil compression sack, with which you can compress the sleeping bag from 3.3 liters to 1.3 liters. In theory at least, as we generally compressed it to between 2.5 and 3 liters. The first time Blaz compressed it, it took him ages and he complained that the stuff sack is too small. I, on the other hand, compressed it in about three minutes my first time, but I do agree that the stuff sack is on the smaller side and that it requires some determination and elbow grease to stuff the sleeping bag into it. Nevertheless, it is amazingly small once packed and will not take up a lot of space in your pack. You can also clip it to the outside with the included branded carabineer clip. The packability is indeed a huge advantage of the Sea to Summit Spark 28 F sleeping bag.
It does take the sleeping bag a bit of time to "inflate" after having been squashed together in the stuff sack, and like all down products the sleeping bag should not be stored compressed for longer periods as it can damage the loft and thus warmth of the down. Unlike most brands, Sea to Summit has also included a storage bag where you can store the Spark sleeping bag in conveniently, without being too compressed. Besides packability, another benefit is the low weight. In comparison to other sleeping bags with similar temperature ratings and the same insulation (850 fill power down), the Sea to Summit sleeping bag is just lighter. For example are Mountain Hardwear's Phantom 30 and Alpine Phantom 30 sleeping bags 142 g (5 oz.) and 188 g (6.6 oz.) heavier than the Spark 28, in spite of having much the same dimensions and being priced similarly.
Verdict
The Sea to Summit Spark 28 is a minimalistic super packable and lightweight sleeping bag, which is meant for 2-season use at night temperatures down to around the freezing point. Due to its compressibility and low weight, it is particularly suitable for backpacking and multi-day hiking trips, but it is also great for regular camping. I could not wish for a better sleeping bag!
If you have any questions about this product, drop me a line in the comments below.
Rating
| | |
| --- | --- |
| Design | |
| Durability | |
| Features | |
We field tested this product. The rating shows its overall performance.About Rating
Pros:
Lightweight
Super packable
Great warmth
Cons:
Slightly small stuff sack
Where to buy?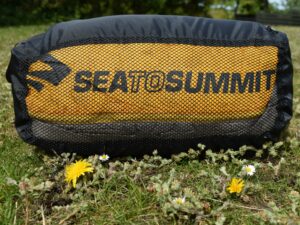 Sea to Summit Spark 28F Sleeping Bag
Buy from Sea to Summit