About Ulstrup Creek Trail
In Denmark it is very hard to find good hiking trails because the country has very little nature in general. However, we really liked the Mols Bjerge National Park when we were hiking there in March and therefore we decided to do another hike in that area. We planned an approximately 9 kilometers long circle route around Ulstrup Creek which starts close to Oernbjerg Moelle (Oernbjerg Mill) and waited for a sunny day to hike it. It took a while but in the beginning of April the weather forecast promised some nice weather and thus it was time to execute this hike which we conveniently named the Ulstrup Creek Trail.
The trail takes you from Oernbjerg mill to Stubbe Lake and back. The terrain is relatively flat in this area and therefore this hike is also suitable for families with kids and those who are not particularly fit. Obviously, the hike doesn't require any special equipment. You should, however, bring food, water and warm clothing. Keep in mind that Denmark is a very windy country and that the wind-chill factor might make it feel colder than what the thermometer shows. The Oernbjerg Mill is an attraction by itself. It was first mentioned in literature in 1552 and in 1946 most of the old mill was destroyed. However, in 1971 they managed to restore it and now it is a cultural heritage site. It is also a great place to hang out and enjoy a picnic because there are some benches and tables around the mill.
Ulstrup Creek Trail Details
Date of the Hike Date when we did this hike ?
Weather On the day when we did this hike ?
Temperature On the day when we did this hike ?
Wind On the day when we did this hike ?
These details are gathered from a GPS device which we used on the hike. Please note that you might need more or less time than us to finish this hike.
About Trail Details
Ulstrup Creek GPS Route and Trail Description
*Click on the chart to see the location on the map
GPX route helps you with the navigation on a hike. It can be used with a smartphone, handheld GPS device or a GPS watch.About GPX Route
Reaching the starting point
The Ulstrup creek trail starts on a parking place between the village of Feldballe and the town of Ebeltoft. Due to its remoteness, the parking place unfortunately can't be reached by public transport.
To reach the starting point, you should drive along road 21 towards Tirstrup and Grenaa but only till you reach the direction sign for Ebeltoft. Turn right here and continue for 5.2 kilometers towards Ebeltoft.  Then you will see a small house and a gravel road on your left. Turn left and park your car on the grassy parking lot next to the small house (coordinates: 56.2610, 10.6208).
You can park your car there for free and the GPX route attached above starts exactly at this spot. From Aarhus it will take you approximately 40 minutes to reach the starting point of this trail.
Trail
There are many different paths in this area and thus navigating along our route is not easy. We do recommend using our GPX track which can be downloaded for free above. You can use it with a smartphone, handheld GPS device or a GPS watch.
From the parking place, start hiking on the wide dirt (called Stubbevej) towards north-east and after approximately 500 meters the wide dirt road will split into two. Take the right and after another 500 meters you will come to a crossroad. Here go right, towards south, and soon you will reach Oernbjerg Mill. Continue past the mill on the wide dirt track and after a minute you will see a grassy path on your left. Take the grassy path which will lead you towards east over slightly hilly terrain. In the beginning the path runs parallel to Ulstrup creek but eventually it turns towards south, away from the stream. After hiking for 3.9 kilometers altogether you will reach the road which connects the town of Tirstrup with Ebeltoft.
Here we decided to take s short stroll along the shore of the Stubbe lake (see the map above). However, we soon figured out that most of the land around the Stubbe lake is privately owned (meaning that we would trespass to reach the shore of the lake) and therefore we turned around and continued the hike.
Coming back on the trail, it starts to turn towards north and runs parallel to the Tirstrup – Ebeltoft road. It also offers a great view on the Stubbe lake. Soon you will come to a small farm and the path will lead you up to the asphalt road which bridges Ulstrup creek. We, however, decided to cross a meadow (in the direction of north-west) because we could clearly see the wide dirt road leading back to the starting point on the other side. Crossing Ulstrup creek had to be done barefoot as it was wider (and also colder!) than it seemed. We had a lovely break on the meadow on the other side, though.
The wide dirt road on the other side of the stream is very flat and leads back to the starting point of the hike (direction of west). It starts as Troldkaervej (Troll's Pond Road) and then turns into Stubbevej.
Equipment
I didn't take too many things with me because I knew that this hike will be very short and easy. In my Osprey Talon 44 backpack I was carrying down jackets for both of us, food, water and some accessories. During the hike I was wearing the WoolPro Agena Merino base layer, Mountain Hardwear Monkey Man fleece jacket, softshell pants, Salewa Mountain Trainer Mid hiking boots and my Woolx Merino hat. The Monkey Man fleece jacket provided just the right warmth for this hike. The Salewa boots were again an overkill – I really need to get some lighter hiking shoes for such trips.
Equipment under scrutiny
Mountain Hardwear Monkey Man Fleece Jacket
The Mountain Hardwear Monkey Man fleece jacket is super light but provides great warmth due to the Polartec High Loft material. It is also breathable, quick-drying and has three conveniently placed pockets. The downsides are that it gets smelly quite fast and causes static electricity when worn in combination with Merino base layers. However, it is still the best fleece jacket I have ever had, and I use it basically on every hike in cold weather. You can read the full review of the fleece jacket here.
Note: In 2020 the Monkey Man jacket was renamed to the Mountain Hardwear Polartec High Loft jacket, but except for a few minor changes (like an exterior chest pocket), it is basically the same jacket. The links lead to the newest version.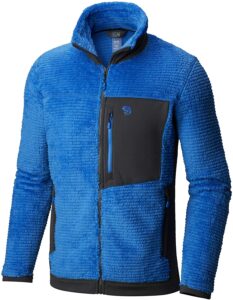 Mountain Hardwear Polartec High Loft Jacket
Buy from REI
Also available at:
Conclusion and photo gallery
The Ulstrup creek hike is super easy and thus best for families with kids and those who are not particularly fit. It is a good option for people who live in Aarhus or other cities close to Aarhus. The trail goes through some lovely nature in Mols Bjerge National Park and past the Oernbjerg Mill cultural heritage site. Remember to bring water and food, and if possible, do this hike in nice weather.
If you have any questions about this hike, please drop us a line in the comments below.